4 Benefits Of Wifi Tracking That Complements People Counting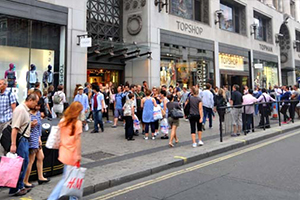 People Counting has become much more than a luxury for retailers and shopping malls. Nowadays it is a necessity that should be integrated into the whole strategy of these businesses to boost traffic, conversion rate & average basket size. Achieving the aforementioned results is a great start, however, like every other technology, People Counting also evolves and early adopters of these changes always benefit the most from getting to know more about their customers.
Wi-Fi tracking is a new method to complement video processing people counters. This new method enlarges the scope of information you get so you can optimize your in-store strategy even further.
1- What percentage of the passer-by traffic you draw in?
As long as their Wi-Fi is turned on (The ratio of shoppers whose Wi-Fi is turned on is between %60-%70.), it is possible to read the Mac IDs of those who enter and who pass by with Wi-Fi tracking. Thus the ratio of people passing by vs. people enter can be calculated. Now that you know what percentage of passer-by traffic you draw in, you can optimize your marketing activities such as lighting, a mix of products and props, signage and background to increase this number. Don't be afraid to try new things as long as it helps you to tell a story that appeals to your customers.
2- What is the best path to sales?
It is possible to measure the average time spent by an individual within the location, by tracking the Mac ID for the duration of their stay within the Wi-Fi distance. This benefit combined with heatmap analysis will give you a better understanding of the path customers follow when they enter a store and the reasons behind the popularity of hot zones.
You can understand the reasons behind the popularity of such zones whether it is the pricing of a specific item or it is the natural path they are guided to follow. This will enable you to optimize product placement and the layout of your store. Knowing the average time spent will also allow you to direct the traffic according to your needs. You can change the music being played in the store to accelerate the sales process when there is a campaign or cause shoppers to move more slowly but buy more.
3- Do you know your most loyal customers?
This new technology will be able to report on "bouncing customers". In other words, it can keep track of how frequently a certain customer (a specific Mac ID) visits your stores and report this. This will give marketing departments a more insightful understanding of their loyal customers and whether they are following specific trends or promotions or not. In addition to this, you will be able to instantly know when your loyal customers enter the store. Combined with the information about their shopping history you can give them personalized customer service.
4- How pure are your traffic figures?
Wi-Fi trackers also track the Staff Mac ID's as well, meaning it enables you to track the number of times the staff enter and exit the location, giving you enough data to reduce this number from the total people count and achieve pure customer count.
To summarize Wi-Fi tracking enlarges the scope of information you can collect at your stores. People counting is all about getting as much information about your store traffic and figure out how the masses and individuals behave in order to increase conversion rate, average basket size and sales. Wi-Fi tracking is the next step to have a holistic view of your stores' potential and react accordingly.