5 Ways People Counting Technologies Can Transform Hotel Management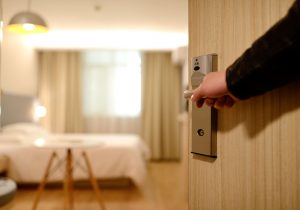 To stay competitive, an increasing number of businesses are starting to adopt digital tools and new technologies. In sectors like the hospitality industry, where success is measured by the number of people that come through the doors, people counting solutions are proving to be the most effective of the bunch.
This is because people counting technologies make it possible for managers to measure how customers interact with (and behave in) their physical locations. This information can, in turn, be used to predict customer needs, improve service delivery, and optimize operations.
Below, we highlight practical ways that people counting technologies can transform how hotels are managed:
Measure Visitor Traffic
It is important to have an accurate count of people that visited a hotel daily, weekly, or monthly. This information can be used to measure conversion rate i.e. how many visitors became guests and how many sales opportunities were lost. This further provides an insight into how well the hotel is performing, making it easier to figure out the areas that need improvement.
Reports from people counting devices outline how well the secondary businesses in a hotel are performing. They tell the manager how many people are visiting the hotel bar, the restaurant, the gym, the business center and so on. By measuring performance in these sections, managers are better able to make changes that improve the hotel's earning potential.
Identify Peak and Off-Peak Periods
Historical data from people counting technologies help you predict your peak and off-peak periods, giving you ample time to prepare accordingly. Consider these 2 methods of hotel management. One, when peak periods come around, you have your staff running around in a bid to ensure that every guest is well catered to. Or two, you predict peak periods beforehand and plan in advance.
With option one, your business comes off as unprofessional and you end up losing a lot of potential customers right there and then. Those that stay will probably not return in the future. With option two, however, the advantage is on your side. You have enough attendants to cater to all your guests and you have enough supplies to tide you over till the off-peak period. By handling the overflow of visitors professionally, you maximize traffic and gain a lot of lifetime customers.
Optimize Staff Scheduling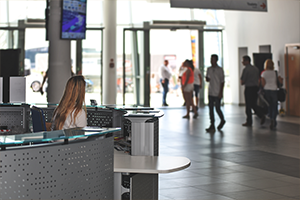 Every hotel has busy hours and some not-so-busy hours where only a small staff is needed to run things efficiently. However, how does the manager create a schedule that ensures that the hotel is never under- or overstaffed? If they keep a small staff and the hotel suddenly becomes busy, they lose sales opportunities. If they keep a big staff at all times, labor costs eat up a chunk of revenues.
Data reports from people counters provide an easy solution. These reports outline which times of the day the hotel is most busy and which times it is less so. And they can be used to create highly effective staff schedules. Consequently, the manager has enough attendants to deploy when things get busy, and during the slow periods, only a skeleton staff is maintained.
Improve Customer Service Delivery
There are certain features that all top-class hotels have. Onsite dining, well-equipped gyms, world-class business centers, indoor and outdoor pools, and many others. Therefore, for potential guests, the decision on which hotel to frequent usually comes down to small details and comments they heard from friends (or read in reviews). Comments like how long past guests spent on the check-in queue the last time they visited this hotel. Or how long they had to wait for a table at the restaurant in that hotel.
With people counting technologies, hotels get the tools they need to optimize service delivery. Queue management systems help managers handle overflows and avoid crowding in major areas e.g. the hotel lobby, restaurant, or business center. And with optimal staffing, there are always enough attendants to cater to all visitor needs. Service delivery sets your hotel apart from your closest competitors, you need every advantage you can get.
Compare Hotel Performance
Businesses that own hotel chains can use data from people counting technologies to compare the performances at their different branches. The data helps them identify the hotel that sees the most visitor traffic and which one has the highest conversion rate. They can also measure how the ancillary businesses in each hotel branch (e.g. restaurants, bars/lounges, business centers, etc.) compare to the others. Strategies that work at one hotel branch may be implemented at the others to improve operations and maximize revenues.
Managing a business as big and sensitive as a hotel is no easy task. There are many moving parts, many different sections, and hundreds of workers to oversee. To keep the hotel running smoothly, digital tools like people counting technologies are your best bet.
For best-in-class visitor analytics solutions, look no further than V-Count, the leading provider of people counting, queue management, heatmap, and Demographic Analysis technologies in the world. V-Count is the trusted tech partner of over 700 brands globally and our solutions are being leveraged in over 120 different countries. Learn more about our solutions here.