Adapting to A Post COVID-19 World: Survival & Revival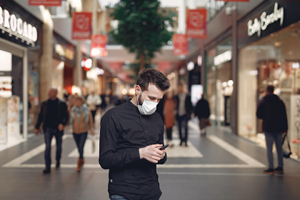 The COVID-19 outbreak has led to a brutal disruption in the retail world. Amidst the pandemic, thousands of stores closed under strict lockdown measures, and as consumers reduced shopping for nonessential items, foot traffic in physical stores disappeared almost overnight.
Since the outbreak, consumer behavior has shifted drastically. Consumers' priorities have changed as many were refrained from going out due to government restrictions. For the retail sector, this resulted in a range of consequences; Grocery stores are experiencing a significant spike in demand, while nonessential retail such as fashion is facing a tough time as a result of the lockdown.
Now at a significant fork in the road, many retailers are forced to make tough decisions that were completely unforeseen. A high proportion of retailers and shopping malls think that the pandemic will have a long-term effect on their businesses, and a large percentage has or plan to implement new health and safety practices in their facilities.
Reopening & Recovery
Dealing with the upcoming phase will be the determining factor for future success. The decisions retail sectors make in the next few weeks could define their business for many years to come. Having a plan for the upcoming recovery phase and adapting to the new reality will be critical. There is a significant opportunity to focus on how to emerge from the crisis a more successful business by evolving the current operating model and complying with respective regulations by providing a safe environment for concerned customers to ensure safety and prevent overcrowding.
Organizations that understand their changing customers' needs once countries come out of COVID-19 will be at a definite advantage. Further investment in customer data and technologies aimed at making the shopping experience safer and more reliable will be needed going forward.
The potential to succeed in the retail world continues to expand with data analytics, AI, machine learning, and process management. Many businesses are looking to partner with platform companies to help deliver on some of these crucial solutions.
A New Reality
The best strategy that businesses can implement today is to improve their planning and adapt their business model and physical locations to create a safe and efficient path to the new reality.
To achieve that, V-Count, the worldwide leading company in the field of people counting and user analytics, has launched VCARE, a first-class live occupancy solution to help businesses and their customers comply with government social distancing restrictions on COVID-19. VCARE can ensure that visitors, tenants, and staff have the space they need to remain safe by accurately measuring people's flow, which makes it easy to track and manage occupancy and incoming visitor traffic to ensure optimum security. Using highly accurate sensors, VCARE provides live occupancy data with clear visual warnings and alerts when limits are reached. It is suitable for buildings of any size, and installation is fast and easy.
There is no doubt that 2020 has triggered a retail renaissance of epic proportions. While businesses are presented with many challenges, there's also an opportunity to recalibrate the current retail scene by setting better standards for the industry through implementing retail analytics solutions and adapting to changing consumer values. Ultimately, how businesses react in the coming months will determine their success in the post-pandemic world.
Stay up to date and follow our periodical announcements here for the latest on how to manage physical distancing with our people counting occupancy solution.