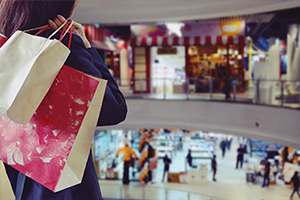 Did you know those tiny rooms in the back of the stores are actually the key areas of the purchasing process?
As a store manager, when you analyze your store's and fitting rooms' traffic, it seems to be pretty high, but you also wonder why your conversion rates are lower than expected. The fitting room area is a crucial point between the front door and the checkout, and that is where your potential customers decide if they want to buy or not. If you want to calculate your conversion rate and count your traffic accurately, you need to set up your people counter devices at the right spots, to turn all potential visitors into buyers.
Now, let's look at some fitting room KPIs and see how people counters complement fitting room analysis to increase conversion rates.
Fitting Room Visits
The traffic entering your fitting rooms gives you an idea about how many of those potential buyers are actually going to turn into paying customers and this is exactly where people counter devices come into play. If you count all your potential customers, who walk into the fitting rooms accurately, you will also calculate your conversion rate accordingly with the right traffic number. As a result, you won't be losing customers in the middle of the chaotic people traffic.
The Average Time Spent in the Fitting Rooms
According to a research, the average time spent in the fitting rooms is just around 6 minutes so with the right people counter device, you will be able to detect exactly how many people are walking in and out of the fitting room area. Once you figure that out, you can allocate your staff to the area to keep the waiting times at a minimum, less than 6 minutes, and make sure those potential customers are satisfied enough to turn into paying customers.
Fitting Room Assistance
Assistance in the fitting room area is absolutely a "must" to keep your customers happy and turn them into frequent buyers. Once you install a fitting room call button, then you can successfully engage your customers with it and make sure to serve them at the right time. When you know the frequency for your customers to call for assistance, then you can allocate the right number of staff to ensure there isn't a long wait for help when they need it.
Call Button Response
This is probably the most crucial part of the fitting room experience because it determines if your potential visitors are returning or not as paying customers. Once they hit that button, that means they need help and they need it now. If you can give them what they need at the shortest amount of time, that means you gain all of those potential buyers as purchasers. Make sure to have enough staff at all times waiting to serve your potential buyers in the fitting room area to assure to give them the ultimate shopping experience.