Could your people counter be the building block of your business in festive seasons?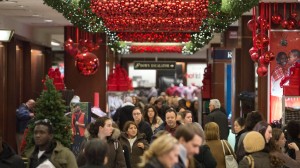 When talking about the holiday season, the first image that comes to one's mind are the properly decorated stores. Whether it is Valentine's Day or Christmas period, it is very common to see the streets lined with dozens of people, strolling in and out of stores, their arms filled with bags and packages. What drags them inside is more of the experience than the hope to check the gift item off their list. Studies suggest that people are more likely to walk into a store that has decorations. The warm feeling that welcomes them creates a more appealing and enticing atmosphere to come inside and look around. Decorations make them feel happier, more like home by creating a positive feeling. It may be misleading to think that the preparations are limited to decorations only. The music track set to play in the background and the right holiday scent have a subliminal effect on people and stimulate spending by keeping them in the stores for a longer time.
Benefits of People Counter Device
It comes as no surprise that retailers generate approximately 25% of their annual revenue in holiday seasons. Even though November and December are the months when they put the cherry on top, festive days are spread throughout the year. Every culture has its own celebration days that both customers and store owners are looking forward to. While shoppers tend to boost their spending to buy gifts for those they love or for themselves, retailers cannot be unprepared for their potentially most fruitful times of the year. There are various ways for retailers to benefit from the happy moments and turn them into real sales-generating opportunities. Integrating people counting and BI technologies into their day-to-day operations allow them to understand whether they are on the right track.
Adjusting prices and stocking up properly is another way to avoid missing out on opportunities. If your decorations coupled with right scent and music are good enough to put people in a positive mood to spend, a slight discount on the right product will be the final touch on their path to purchase more. One of the biggest mistakes often overlooked particularly in the festive season is how effective the payment process is. Once a visitor likes a product and moves towards the cashier area, retailers encounter the real challenge. Almost 20% of customers are likely to abandon the store without purchase if they see more than 5 people waiting at the queue. Optimizing this process will be what sets a store apart from the rest. Retailers who embrace this concept for every opportunity step up in the game and achieve breakthrough sales regardless of their size.
That being said, though, as a retailer, dressing up your store is not enough on its own. What makes the real difference is to analyze whether your efforts produce a successful return on your investment. The way to measure is through business analytics tools that provide invaluable metrics such as your visitor traffic, conversion rate, draw-in rate, average basket size, dwell time etc when everyone is out there, ready to enjoy greater shopping experience. Only then, you get the real insight into understanding what your customer wants and whether you speak the same language. This knowledge is often more useful in the long term than what the immediate results tell you. People counters, in-store analytics devices such as heat-map cameras and Wi-Fi tracking units are designed to deliver complete, holistic and longstanding analysis. The real failure would be not to remember that your investment does not have a high return if no reliable tool proves you otherwise.