The Digital Age, Traffic Data, and How Shopping Malls Stand to Benefit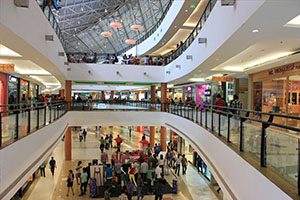 In 2017, Sears, Macy's, RadioShack and JC Penney closed over 100 stores. A year later, Toys R Us announced its liquidation and closed almost 800 stores across the United States. Closures like these have been going on for the past few years and many retail giants seem to be struggling to stay afloat. This has been chalked up to the advent of the digital age and the market domination of ecommerce platforms like Amazon and EBay.
However, the digital age does not spell the end for brick and mortar retail as many seem to believe. Shopping malls and stores are starting to incorporate new technologies that help them measure traffic data and maximize the information it provides. This enables them to improve their services and compete favorably with online marketplaces.
The digital age customer wants a shopping experience that is tailored to their individual and unique needs. Online stores have been able to provide them with this experience, and the following tools help physical malls to do the same:
Optimizing the omnichannel strategy with MAG recognition
The omnichannel (all-channel) strategy incorporates all possible platforms—e.g. ecommerce marketplaces, online stores, social media shops, and physical locations—to ensure that customers get a wholesome shopping experience from start to finish. It works perfectly for people that want to combine the limitless experience of shopping (and placing orders) online with the security of inspecting the product physically before paying for it. That way, if the product is satisfactory, they can process the payment and have the store deliver it to their home; if it is not, the store gets it replaced for them.
Of course, the omnichannel experience requires an online store, but the physical location is where a chunk of the action happens. Malls can combine with online stores to provide customers with a collection lounge for inspecting and collecting their products. When the customers come in to collect their products at the mall, the innovative Demographic Analysis technology comes into play. With it, malls can collate information about the customers. They can tell their gender, what age group they belong to, and how happy they were with the service they just received.
Malls can provide partner retailers with these details, helping the retailers improve their service delivery and optimize the omnichannel experience to suit different customer groups. The mall, in turn, becomes an attractive partner for online stores looking for a physical pickup location. Through the omnichannel experience, MAG helps malls stay in touch with (and benefit directly from) the digital age.
Collecting Visitor Data
To compete favorably with the many online marketplaces, it is important for shopping malls to gain a complete understanding of how customers behave in their stores. What is the difference between the number of people that walk past your mall and the number of people that come in? How many of the prospective customers are converted into actual customers? Which stores in the mall see the most activity and have the highest conversion rates? What differentiates that store from the underperforming ones?
These are the questions that visitor analytics help shopping malls answer. These answers can be offered to the stores, enabling them to convert more visitors and improve their service delivery. Marketing strategies that work for store A can be replicated to improve store B's performance. To increase footfall and attract more visitors, shopping malls may launch promotional offers. This, in combination with the stores' new strategies, should lead to increased sales across the shopping complex.
Conclusion
The digital age launched a new era for ecommerce platforms and online sellers; it can do the same for physical stores. By leveraging the new technologies outlined above, malls provide an avenue for the stores in their complex to go toe-to-toe with online marketplaces. Imagine a shopping mall that provides the seamlessness of online stores. A mall with optimal service delivery that has different promotional offers for different periods.
With digital age tools, a mall like this is possible. To integrate these new technologies, please visit V-Count, the world's foremost provider of visitor analytics, and MAG solutions. In addition to providing these tools, we also offer our clients a Business Intelligence Platform that lets them store their customer data securely in the cloud. We analyze this data using cutting-edge AI and machine learning tools, thereby providing shopping malls with sophisticated yet easy-to-use reports. These reports can be used to come up with new initiatives and marketing strategies that ensure maximum customer conversion and increased sales.
Reach out to us for a free demo today!