Do You Know How People Counting Systems Work?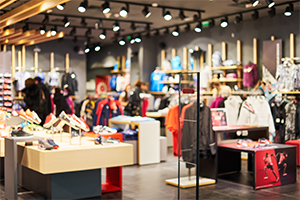 If you run a business, then you've undoubtedly heard about people counting systems. It's a system that connects people counter sensors to a people counter software, making it possible for brick-and-mortar businesses to keep an accurate count of visitors. But do you know how the system works? Or how data from the counting software can be converted to key retail analytics? If you don't know, you're about to find out. Not only will you learn how the system works, but you'll also learn how it can help you transform your business, optimize operations, and improve your bottom line.
Store Customer Counter: The Basics
People counting sensors are placed at strategic positions in a business location, say, a retail store. The sensors count every visitor that enters and leaves the store, and the data is recorded by the people counting software that provides backend support. This is the basic explanation of the workings of a people counting system. The data collected by the sensors depend on their positions in the store.
For example, if sensors are placed at the entrance and exits, it provides an accurate count (minimum accuracy of 98 percent) of how many enter and leave the store. Similarly, if the sensors are placed at the entrance of individual store sections, the system tallies how many people enter the section. Some retailers place people counting sensors outside their stores to collect street traffic data.
Now, collecting the data is only the beginning. All the information collected by the sensors is of great importance, especially to business owners that seek to understand more about how their stores operate and how customers behave in the store.
The Importance of People Counting Data
The first metric that can be extracted from people counters is traffic data. This represents the total number of people that visited the store, and the data can be collected for different timeframes. On its own, traffic data is a measure of business performance; it signifies how well received a store is and how many visitors it attracts in comparison to its competitors.
Another benefit of traffic data is that it can be analyzed further to get other important store information. For example, when cross-analyzed with checkout data, you can derive your store's conversion rate. This metric describes what percentage of store visitors made purchases. Analytics from traffic data can also be used to determine peak and off-peak periods, customer-to-staff ratio, and bounce rate.
All these metrics describe how customers behave in a store, and they can be improved to boost sales. Bounce rate, for example, measures how many people walk past a store VS how many people walk in. A bounce rate of 90 percent means that only 1 in 10 passersby enter your store. If you can increase this figure, you get more prospective customers.
People Counting and Retail Behavior Analytics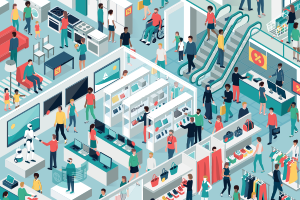 One of the most exciting features of the people counting system is how it ties into retail behavior analytics. This refers to key analytics that explains why customers behave the way they do in a store. For example, if your store's conversion rate is low, and you want to understand why there are technologies that make this possible. Here is how it works: V-Count, the leading provider of retail analytics software in the world, provides a full suite of services to business owners.
Firstly, they provide a way to connect people counting sensors to other software aside from the people counting system. In addition to collecting traffic data, retailers that leverage V-Count's software may also measure other analytics. There is the Heatmap analytics that provides insight into how visitors move around in a physical space. It outlines the sections and walkways that receive the most traffic and how customers interact with products. V-Count also provides Queue Management and Demographic Analysis software.
So, with V-Count, you are not restricted to traffic data. You can also collect other analytics that provides deeper insights into why your customers behave the way they do.
How People Counting Improves Business Performance
After collecting footfall data and other critical retail analytics, the next question is how to leverage the information to improve business performance. This is important because if you don't apply the insights they provide, collecting analytics is a pointless endeavor. To this end, V-Count offers a Business Intelligence Platform (BIP).
This software collates all the data obtained from different software. The BIP secures the data using the latest cloud storage technology. Furthermore, the data is analyzed, and V-Counts' clients are given reports on how their business is performing. The report focuses on all the critical retail analytics, highlighting which ones need to be improved on. Clients may also get recommendations on how they can optimize their operations and boost performance.
In conclusion, people counting systems can be used for a function as basic as collecting traffic data. However, the data can be leveraged to do even more. You can learn more about your customers and their preferences, making it easier to improve customer satisfaction levels and, consequently, sales. You may also learn about how effectively your store operates, helping you implement strategies that optimize operations and streamline service delivery.