Duty Free Shopping: Time is of the Essence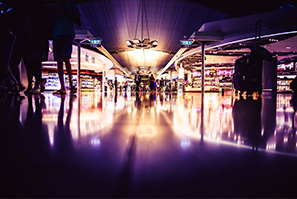 Airports are, by nature, a very busy place, with thousands of visitors passing through every day of the week. As a result, airport duty free shops are guaranteed a significant amount of footfall and the onus is on them to convert this stream of visitors to customers. Another advantage is: many of the passengers are looking forward to buying tax-free items. Also, duty free shops are their last opportunities to get gifts for their friends and family members.
However, many of these visitors only have a few minutes to make their purchases. The incoming passengers are tired from their journey and the ones that are about to travel are stressed out from the inspections and security checks they had to go through. After standing in long lines, the last thing they want to do is wait in even more lines at a duty free shop.
Airport retailers looking to cut their lines, maximize shoppers' time, and improve their conversion rates should consider the following new technological tools:
Improve customer conversion rates
Visitor analytics technology helps businesses to measure the number of customers that are in their shops at any particular moment of the day. It tells them how many visitors come in and how many leave, and the number of visitors that passed by their shops without coming in. This information can be used to determine peak periods for shoppers. It also tells retailers how many customers visit their shop in comparison to the number of people that walked past.
Knowing the number of visitors that they failed to convert to customers will help duty free shops work on their strategies and test the effectiveness of new marketing initiatives. In a locale as populated as the airport, increasing customer conversion will improve a business' bottom line significantly.
Maximize customer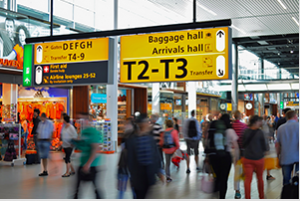 According to data released by an airport industry consultant, passengers only have an average of 30 minutes to shop and dine while passing through an airport. As it is, that time is barely enough to make any significant purchases. When the queues at duty free shops are factored in, it gets even worse and the longer passengers spend on a queue, the less time they have to shop. Because there are many other stores at the airport, any shop that is known for having long queues will quickly lose its customers.
With queue management technology, retailers can reduce wait lines and help their customers manage their time better. With data from the queue cameras, managers can assess how many people are on each queue and how long it takes on average to attend to each customer. This information can be used to make personnel changes e.g. adding one or two more attendants to speed things up. Also, during historically peak periods, managers may deploy more attendants to forestall the impending queue. At an airport duty free shop, this technology has the potential to be a game-changer. Imagine visiting a shop during rush hour—and with a few minutes left before your flightseeing no queues?

Optimize shop operations
Heatmap technology provides shop managers with in-store customer analytics, e.g. customers' shopping behavior, which parts of the shop they spend the most time, and which products they engage with the most. Using this information, managers can determine what makes customers spend more time in certain sections and replicate it for low-performing sections. Products with more engagement are also restocked to prevent shortages and areas with more foot traffic may be populated with more attendants to prevent bottlenecks and long wait lines.
A number of businesses are taking advantage of these technologies to optimize their service delivery and reduce queues at their locations. Given the time-sensitive nature of duty free shops, they stand to benefit even more by adopting these tools. The beauty of it all is: when passengers realize that your shop operates more efficiently than others and never runs out of their favorite products, you are bound to attract even more visitors. However, since you are leveraging tools to help you stay ahead of the crowd, your shops will never keep customers in line for too long.
V-Count provides businesses with people counting, queue management, and heatmap technologies and analyze the data using cloud-based Business Intelligence Platform. This allows us to offer our customers automated reporting, recommendations, and real-time alerts that help them keep their shops full but their lines, short.