Essential Factors to Consider When Choosing a People Counting System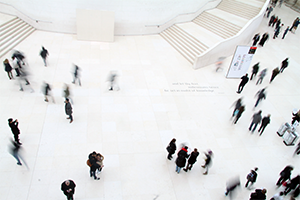 Much has been said about how effective people counting systems are to retail stores, shopping malls, airports, event centers, libraries, and other physical locations where it's important to measure the number of visitors accurately. In addition to their primary purpose—counting people—data from people counting devices can also be used to predict visitor behaviour in a physical space; which sections they visit the most, which time are people more likely to visit, and how many visitors are making purchases.
As a retail chain owner, a store manager, a mall operator, or the administrator of an entertainment venue, adopting traffic counting technology for your physical location is a no-brainer. However, before you choose (and while you are choosing) a people counting system, there are some critical factors to consider. Find them outlined below:
The accuracy of the traffic counting device
The best traffic counting devices have an operational efficiency of 96 – 98%. While most manufacturers claim that their devices are within this range, there are a couple of ways for you to ascertain how accurate their system is. For example, counting systems with infrared beams were the rave some years ago. A beam is sent to a reflector on the other side of an entrance, and when someone crosses the beam, the person is counted. However, when multiple people pass the beam, it counts them as one. Therefore, the accuracy of this system is closer to 80%.
Furthermore, ask if the system is unidirectional or bidirectional. In bidirectional systems, the sensors are placed above the entrance, and they can distinguish between people entering and people leaving. Unidirectional systems cannot tell if someone is entering or leaving.
V-Count, one of the leading providers of people counting technology in the world, leverages bidirectional devices for its customers. These systems use the best-in-class stereo vision technology (3D technology), and the video-based units count to an accuracy of 98%. The sensors can distinguish the people entering from those leaving, and the numbers are recorded separately. Also, with video-based systems, you can easily re-watch the video and verify the accuracy of the data recorded by the customer traffic counters.
To make the data even cleaner, 3D systems have depth imaging that makes it possible to tell adults apart from children. This is particularly useful for retail stores since children hardly make any purchases.
The flexibility of the traffic counting technology
Find out if the people counting technology you are considering is flexible and adaptable enough for different situations. Find out how functional it is for your current needs and if it can be scaled up for future needs. For example, if you want to incorporate more locations, will your data be streamlined? Also, can the traffic counting technology be integrated with your point-of-sale system, making it possible to track conversion rates?
When combined with the right technology, people counting devices can also be leveraged to manage queues effectively in a physical location. This helps retail stores reduce wait times and cart abandonment rates, and increase conversion rates and profitability.
Traffic data reporting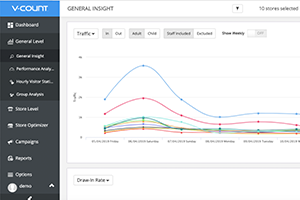 How frequently do you want reports from the customer traffic counters? In real-time? Every half-hour? Or every day? If hourly counts are needed to optimize staffing and other in-store operations, opt for a system that can provide you with hourly reports. Also, you can either choose a service provider that sends you raw traffic data or one that sends you easy-to-understand reports. Other factors to consider include how safe your data is and how much access you have to the data.
V-Count, a trusted name in the visitor analytics industry, stores customer traffic data securely in the cloud where the latest AI and machine learning tools are used to provide accurate and actionable analysis. V-Count also provides clients with real-time traffic reports to ease their day-to-day operations, along with weekly or monthly reports to provide a general overview of visitor traffic in their physical locations. Clients also get to enjoy ten years of offline storage with automatic synchronization.
The present and future cost of the people counting system
You need to find out how much it costs to procure the customer traffic counters, to install them, and to maintain the devices over time. Remember to factor in the cost of technical support and if need be, future expansions and integrations.
Modern people counting systems are more expensive than say, a handheld counter, and they provide more value. To mitigate the risk to the buyer, some visitor analytics providers offer potential customers a free trial. This allows them to witness the benefits of the system first-hand, making their decision to buy even easier.
Summary
Getting an accurate people counting system with a flexible enough technology to meet present and future needs are good. Finding a provider that offers you secure cloud storage and regular easy-to-understand reports is even better. V-Count provides customers with all of these, along with the technical support to ensure that their devices are working optimally. To cap it all off, prospective customers get to enjoy a free trial.