Gyms Reopening: How To Ensure Safety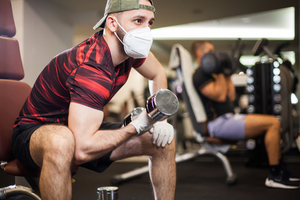 With the normal life slowly returning and the government lockdowns easing, gyms, swimming pools, and leisure centers are reopening all around the world after months of closure.
Exercise is beneficial for both physical and mental health. Still, for gyms to reopen safely, they need to make sure that proper measurements are implemented to prevent the spread of the coronavirus. These include a series of restrictions that ensure work-out spaces are COVID-secure, like policies that staff must follow, and guidelines that gym-goers and members of the public must adhere to while using the facilities.
In England, gyms are finally set to reopen again on 25 July. The UK Government has outlined a list of measures for ensuring millions of people can get back into more sport and fitness activities. Outdoor pools have already reopened on 11 July, and indoor gyms, swimming pools, and sports facilities are set to reopen on 25 July.
The guidance includes recommendations & advice on cleaning, social distancing, and protection for staff and customers to help venues like pools, gyms, and leisure facilities get back up and running safely. It also supports the reopening of sports halls, which are vital to the return of play for many sports, including badminton and volleyball.
Safety measures outlined in the guidance include the following:
Limiting the number of people using a gym facility at any given time, by using a people counter camera, for example.
Reducing class sizes.
Allowing sufficient time between classes to avoid groups waiting outside.
Spacing out equipment to maintain social distancing.
Ensuring a limited number of people are in a swimming pool together at any one time.
Providing enhanced and frequent cleaning.
Ensuring adequate ventilation.
Providing hand sanitizers & self-cleaning stations throughout the facilities.
Considering one-way-systems for how people walk to reduce contact with queue management.
Encouraging the use of outdoor spaces for both individual and group activities while complying with restrictions on public gatherings.
Work-out studios should have temporary floor markings to help people maintain social distancing during classes.
Encouraging customers and staff to shower and change at home whenever possible, although changing rooms will be available.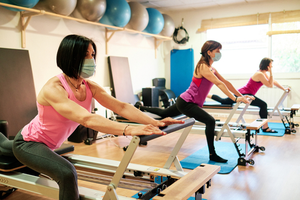 Gyms have the opportunity to leverage people counting and data analytics to further ensure the safety of their facilities. People counter software & cameras offer an array of solutions that have become even more crucial post-pandemic. V-Count's real-time occupancy solution VCARE, for example, is being utilized by businesses to monitor the number of people present in their physical spaces at any given moment. This technology prevents over-crowding, helps in maintaining social distancing, and allows staff to improve facility management by providing extensive and frequent cleaning and sanitization for different zones in the gym, like changing rooms, toilets, or elevators, etc.
Another solution that can offer significant benefits is queue management, which could be adjusted to reduce contact between people.