How Real-time Occupancy Helps You Keep Your Customers Safe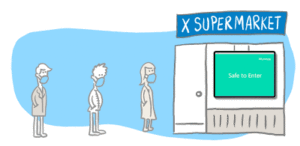 As governments worldwide work to implement safety measures in the battle against COVID-19, physical distancing has come into play, to become an integral part in preventing the spread of COVID-19.
The current pandemic outbreak has, without doubt, accelerated the transformation in the retail analytics business, and the need for a smart solution is in increasing demand worldwide.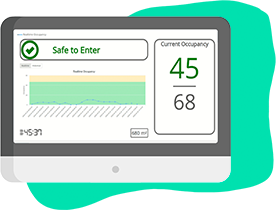 Complying with respective regulations and providing a safe environment for concerned customers is the key to keeping stores and supermarkets safe and open, and essential for the upcoming phase of reopening retail businesses to the public once more. For retail stores and supermarkets, in particular, it is now more important than ever to ensure the safety of both customers and employees and to prevent overcrowding.
VCARE is a real-time occupancy monitoring solution that can help businesses ensure that everyone has the space they need to remain safe. V-Count's live occupancy sensors can accurately measure people's flow, which makes it easy to manage the people waiting outside the store to ensure safety.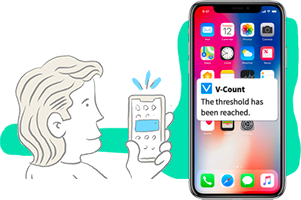 Using highly accurate live occupancy counting sensors, VCARE provides live occupancy data with clear visual warnings and alerts when limits are reached. VCARE is suitable for buildings of any size, and installation is fast and easy. Advanced settings also allow staff members to be excluded from the occupancy count whenever required.
V-Count's live occupancy solution enables retail businesses and supermarkets to comply with capacity regulations and provide a safe environment for customers without risking any further spread of the virus through exposed staff or physical tickets. A simple screen at the entrance is enough to communicate safety recommendations to customers.
With VCARE, retailers and supermarkets can achieve countless benefits:
Monitor live occupancy data that is automatically collected, based on configured occupancy limits for each store.

Integrate occupancy data through an API to use on your mobile application to keep your customers informed.

Track customer to staff ratio throughout the day and per hour to contain the total number of customers in-store each staff member is subjected to, limiting the spread.

Display occupancy recommendations on digital screens outside the store to manage waiting time and safety.

Fast and easy installment with no Integration required. Plug and play!

Stay informed when visitor traffic thresholds are breached with e-mail & push notifications

At V-Count, we always strive to deliver high-quality products and services. We want to help local and global retail businesses to reopen as soon as possible by managing people's flow smoothly and efficiently with our smart occupancy solution, and because we care, we have dedicated a significant part of the revenue from our VCARE solution to be donated to international organizations developing vaccines against the coronavirus.
Whatever your business may be – we can help you achieve your solution in a short time with our global presence and worldwide network of partners.
Stay up to date and follow our periodical announcements here for the latest on how to manage physical distancing with our people counting occupancy solution.