New Technologies Adopted in Supermarkets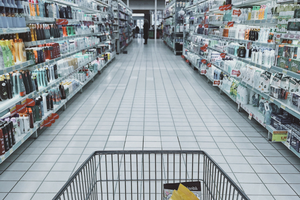 Supermarkets are for everyone. With their fresh vegetables, canned goods, bakery stations and technology departments they attract many visitors daily. Any supermarket's goal is to turn a visitor into a loyal buyer. That's why it is critical to managing a supermarket delicately.
Let's say you have a loyal customer and he has been a regular for a long time. He comes in before Thanksgiving. It's the crowded festive season and he is having a hard time finding the products he wants. He looks out for help, yet there is no available staff to help him because they are all busy with restocking the shelves or attending to other customers. So, he keeps navigating the aisles with his shopping cart, finding all the products himself while spending too much time for his care. Then he arrives at check-out only to find a long queue in front of him. Losing his patience, he abandons his cart full of goods and leaves your store to search for a better-managed supermarket.
Scenarios like these could be avoided thanks to visitor analytics technologies. Understanding the entry and exit patterns of customers, identifying peak hours of your business, managing queues at checkouts and correct staff allocation is possible and easy to supervise with the latest technology.
People Counting Systems
People Counting Systems have been used in various industries such as retail, exhibitions and events, shopping malls, airports; to count the footfall in a given physical space and analyze it in accordance with time-based metrics. For every industry that aims for higher customer satisfaction, it is important to employ people counting systems.
People Counting technology helps you to understand visitor behaviours as it counts the number of people entering and exiting the supermarket in real-time. It will enable you to compare your weekend and weekdays traffic, helping you to come up with a strategy to ensure operational excellence and increased customer satisfaction.
A high-quality people counting system will identify the peak visitor hours and days, how many visitors your store welcome in a given period and help you discover how many of these visitors turn into buyers. By discovering your power hours, which your store generates the most customer traffic, you will be able to increase or decrease the number of staff when it's needed, optimizing your costs and increasing profitability.
Heatmap Analytics
For supermarkets, it is crucial to evaluate both planned and impulse-driven decisions of customers in order to facilitate a more sophisticated shopping experience. That's why it is essential to use Heatmap Analytics. This technology allows you to understand your visitor's actions, where they are most attracted to, what they tend to search more and what drives them to buy specific products. With Heatmap Analysis, you will be able to discover the popular areas and aisles in your store and by determining the reasons behind the performance of successful zones, you can replicate this success in other zones.
Heatmap Analytics is also used when creating marketing campaigns and promotions. By creating campaigns in less popular zones and promoting campaigns in hot zones you can optimize your overall sales.
Queue Management Technology
It is essential to minimize the time your customers spend during the checkout process in order to prevent missed opportunities. With Queue Management Technology, you will be able to calculate the number of shoppers that go through your checkout queues, average time spent there and optimize your queue lengths in real-time. The system notification allows personnel to act immediately once a certain number of people is reached at the checkout.
Visitor analytics technologies such as People Counter Systems, Heatmap Analytics and Queue Management, helps businesses to thoroughly analyze every corner of their physical space and how customers behave, letting them boost profits by better management of the planned and impulse-driven purchases, optimization of market layout, more successful promotions and effective staff allocation. By creating a much better shopping experience for your customers and showing them you value their time, you will keep increasing revenue as well as customer satisfaction.