How People Counting Can Help Football Stadiums Run Fun, Safe, and Functional Events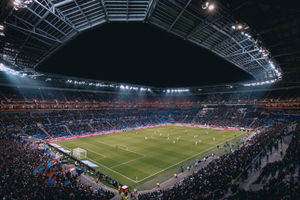 Football addicts from around the world enjoyed the World Cup 2018 in full force. Millions of them have been lucky enough to get tickets and watch the games right from the central event location. It's hard to tell the exact number of people that will attend football stadiums at this 2018 World Cup, but if we track back the numbers to the Brazil attendance rates from 2014, this year's visitors can set a new record of over 3.5 million.
People counting software is not only for shopping malls, airports or large casinos. Any dynamic area with a large number of people is a great opportunity for the business in charge to accelerate growth. People tracking technology can help you to get to know visitors better by learning what triggers the customer in them.
How can you learn more about your customers at a football stadium, where 50,000 excited fans are keeping their eyes on the ball during the most important football event in the world?
If you are a football stadium manager, you have an excellent opportunity to amaze visitors with crowd-pleasing experiences. Visitor analytics tools can help you keep everyone safe, and, at the same time, maximize revenues with targeted marketing campaigns.
Solving People Counting Challenges During a Sports Game
A lively crowd, like the one at a stadium, is made up of inspired potential customers. However, a crowd can also be unpredictable. Keeping all visitors happy while two national football teams have locked their horns in a tight game is tough. Most tickets are sold out months before the event. Advertisers have already been in touch to place eye-catching promotional materials on attractive locations. Countless stands and small shops offer food and refreshments. During the rest period, visitors are queueing to take a toilet break.
That's the typical picture of a stadium. It's a busy and dynamic place. As the excitement builds, stadium managers can get overwhelmed by the number of people they have to keep an eye on.
Stadium visitors are customers in more than one way. They bought a ticket to the game. Many will get something to eat or drink during the breaks. In addition, they are constantly exposed to a big flat screen which runs commercials, as well as to physical ads and banners.
By tracking visitors as they move in or out from a certain area, you can:
Get precise insights into customer traffic.
See what drives customer behavior.
Use the well-performing metrics to optimize many different business areas.
A football stadium during a hot match is a well of potential. You just have to know how to apply the data provided by sophisticated business intelligence tools for people counting to come out on top of a successful event.
Use Queue Management for Better Results
Queue management can help you deliver an unforgettable customer service for all those people queuing in front of consignment stands, toilets, and merchandise selling points.
During a sports event, each minute is precious. Customers hate waiting – in fact, their patience lasts only 13 minutes. Pass that limit, and they are off to the competitors.
A Queue Management solution with special stereo vision cameras equipped with 3D people tracking technology can help you cut down waiting times and determine the busiest places. Once that data gets packed in a nice report on your dashboard realtime, you can immediately take action and by assigning more staff where necessary, in turn keeping customers happy with fast service delivery.
Support High-Quality Contractors with Heatmap Analysis
The famous Wembley Stadium has 688 food and drinks service points. Naturally, customers have their favorite places. Combined people counting and heatmap analysis can help you select the top performers among your food and drink service providers at different events. There is a three-fold benefit from the data gathered, directly impacting customer experience, and indirectly impacting stadium contract management:
Visitors are guaranteed to get their favorite food and drinks during a game.
Contractors can boost the performance of products and services that provide optimally.
Stadium managers can set up next season's contracts with the preferred contractors.
Simply put, smart data from visitor analytics is a win-win tool for everyone involved.
Improve Security at Critical Points
Not all participants at a sports game are visitors or contractors. Stadiums also engage skilled security teams to help maintain everything is in order.
Security is of utmost importance during a large event, especially when it's a football match followed by thousands of aroused fans. Just by looking into the crowd, it can be hard to tell who is a visitor and who is a staff member. Then, how can you obtain real-time numbers and trust them to reflect the reality of the situation?
People tracking technology provides a solution for that, too. Staff can be excluded from the overall people count by carrying tags that get activated with Bluetooth technology. Each person with a tag gets registered as a staff member and is not included in the visitor analytics data. Staff exclusion can be successfully combined with people counting and heatmap analysis to help you make better-informed decisions about staff distribution – for instance, about assigning security staff at critical points.
Segment Customers in Blocks
Stadiums are multi-purpose areas, appropriate not only for a number of sports, but also for music concerts, conferences, and other jam-packed public events. Visitor's diversity can be misleading in terms of numbers if you only stick to customer traffic data from a single event. Each event attracts a different customer profile with a particular taste and behavior. Moreover, two or more events can take place at the same time, for instance, a small music show can take place in one block and a college athletics competition can take place in another block. Fan pit members and partner area members at concerts can have a different preference for a product, each group creating a specific block.
People counters provide data from customer segmentation by including details about demographic analysis. By knowing how many of your customers are male and female, their age, and how likely they to buy are, you can:
Decide on the number of tickets for future events.
Engage the best performers.
Create customer blocks and impress them with personalized experiences.
Emotions are the best predictors of customer traffic. They get even more powerful when used alongside gender and age indicators.
Create Best-Match Marketing Campaigns
In a typical World Cup match, spectators of both teams have a special place in the overall venue configuration. Coming from two different countries, both fan bases can prefer completely different products and services. Consequently, a unique marketing approach will not be as successful as running selective marketing campaigns.
You can use visitor analytics data to create one campaign for the south section, and another one for the north section of the venue, benefiting from the natural tendency of fans for grouping. Banners and video footage can be directed toward the relevant segment, capturing the right customer's attention, and, in turn, raising conversion rates.
Despite the copious number of ways in which you use people counting or visitor analytics capabilities at a public venue, smart software solutions can turn that into neat reports available in real-time from the interface of a central business intelligence platform. The precise headcount can be used to manage your customer traffic from one location, as all data gets stored in the cloud.
Ready to learn more about how to drive your business performance up a level with people tracking technology? Get in touch with us to start your free trial!