How Retailers Stand to Benefit from Using Artificial Intelligence
Artificial intelligence systems have the ability to analyze & interpret external data, learn from the interpreted data, and use the knowledge to complete automated tasks. AI algorithms are also very adaptable and they continually use data to improve their operations. These features make artificial intelligence highly functional and very useful to retailers.
The Age of Automation
Nowadays, it seems like Microsoft Excel (and other spreadsheet tools) have been around forever, but this is not so. There was a time before these tools, a time when workers had to perform spreadsheet tasks using a pen, paper, and a calculator. Can you imagine how long it would take to manually manipulate and analyze data with over 500,000 entries? And how many more hours would be used to cross-check the work? Due to its functionality, Excel revolutionized many sectors with retail being one of its most prominent beneficiaries.
However, giving how quickly the retail scene grows and the constantly-developing nature of the data it produces, spreadsheet tools began to struggle to keep up with the data analysis. A more viable solution was found in artificial intelligence and the technology ushered in a new age of automation. In addition to being automated, artificial intelligence is also self-learning and self-improving, making it a better fit for the fast-growing retail industry. Because of AI algorithms, retailers were able to match the speed of human decision-making, leading to marked progress in retail data analysis and manipulation. Artificial intelligence is currently being used to create a number of technological solutions for the retail industry as well as many other major industries in the world.
Artificial Intelligence and the Retail Industry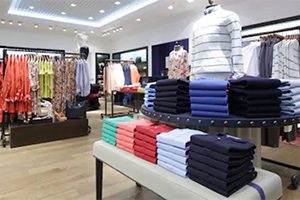 According to a comparative analysis released by research company, Gartner, when the total internet mentions for artificial intelligence was examined in 2015, retail was the number 1 related sector. In 2017, the retail industry tied with healthcare for second place. This is a sign that retailers have become aware of how much potential AI has in revolutionizing the sector and driving business value.
According to another Gartner report, the "2017 CIO Agenda: A Retail Perspective", CIOs acknowledge that their number 1 impediment is a lack of analytical skills. Moving forward, however, they can rely on artificial intelligence for effective analysis. For example, AI algorithms are very effective in differentiating between facts and assumptions. Rather than depend on bias to separate them, retailers can simply run tests. When one approach doesn't work, all they need to do is draw up another one and test it again. What this means is: retailers no longer need to guess what customer group A will interact with or what will make them lose customer group B to a competitor.
With artificial intelligence, they can simply run tests and analyze the results. This enables retailers to focus their resources on activities that improve customer shopping experience e.g. in-store operations, merchandising, marketing logistics etc. These activities are often labor-intensive and repetitive, but with AI, it becomes easier to identify patterns and optimize accordingly. The end result is a marked increase in innovation speed and a sharp decrease in the resources required to make this increase possible. Additionally, AI can be used to analyze historical data and predict effective sales techniques, marketing strategies, and hiring operations.
Labor is one of the biggest cost items for multichannel retailers and when budget cuts are being considered, it is often the number one victim. A struggling company's first recourse is almost always to lay off workers and make operations smaller. In retail, however, this may not be a smart resolution. By letting staff go, the organization is left short-handed and in-store operations are affected. Queues start to form at the checkout counters and more customers abandon their carts, leading to lost sales opportunities and making the entire process counterproductive.
V-Count's AI Solution
To avoid losing sales opportunities, it is important that retailers do not use spreadsheets to assume how many members of staff are required to run a branch effectively. Also, rather than wait for budget cuts before streamlining operations, retailers can use artificial intelligence solutions to automate staffing and even prepare an employee schedule.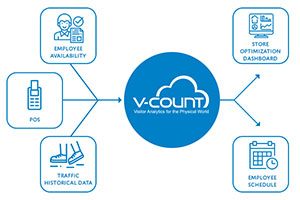 Here is how it works: the AI algorithm uses historical traffic data to predict incoming traffic for the future and combined with the employee data and POS informations, the algorithm produces an automated employee schedule. While the schedule is being used, a store optimization dashboard is used to track and ensure that visitor traffic and the schedule are in line. Lost sales opportunities are checked every hour and the data is used to further improve the employee schedule.
Since AI algorithms are self-improving, over time, the employee scheduling feature will keep learning (and keep optimizing itself) until it consistently produces an employee schedule that perfectly matches the number of customers in the store at all times. This reduces lost sales opportunities while also enabling retailers to only hire the number of employees they need and deploy them effectively.
Conclusion
In the past, using data to predict human behavior and decision-making was almost impossible. There were millions of factors to consider, people change their minds very frequently, and no technology could handle all that data. The advent of AI algorithms, however, has made it increasingly easier to analyze gigabytes of data and consequently, build solutions based on these analyses.
V-count's automated employee schedule and store optimization dashboard are possible because of artificial intelligence. By adopting it, you are leveraging the latest in technology to devasting effect and at the same time, making your store's operation more effective and efficient.