Return On Retail Marketing Investment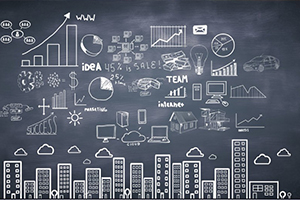 Marketing effectiveness should be measured both in online and offline platforms. Today, a majority of consumers use different channels to be more informed about the products they want or need. This cross-checking process is invaluable for the modern consumer. They visit different brick and mortar stores as well as e-commerce sites to find the best product at the best price.
A lot of factors should be in line for a customer to buy your product and not your competitors' due to increased competition and abundance of information we did not have once. Thus marketing departments are under much more pressure compared to the last decade and especially pre 2000.
A combination of data should be integrated to see the big picture. People counting is the main part obviously for physical stores.
Conversion rate serves as a fundamental metric to evaluate marketing and sales effectiveness. High volume traffic alone means that stores are doing something right but it is not sufficient as long as the ratio of window shoppers are significantly higher than actual paying customers.
A big part of ROMI (Return on Marketing Investment) can be easily measured by taking a look at conversion rates. Then the benefits and costs of a campaign should be evaluated to see if the current marketing efforts are justifiable.
Testing different strategies and tactics and measuring the results on a daily and hourly provides immense insights on Visitor behavior Analysis. This creates an ever-improving sense of adaptability to people's activity patterns.
Adjusting lighting, music, in-store promotions, offers and staff schedules based on results will enable stores to be efficient. Trial and error is a necessary part of reaching excellence. In order to find the important details, one should evaluate the visitors on a time-of-day basis. A tactic that works perfectly fine during early hours may not yield the same results at closing hours.
A significant amount of marketing budget can be cut from inefficient methods without a loss of impact. This amount can be reallocated to support efficient marketing activities. According to experts who study ROMI, meaningful data can increase revenue, profit and market share by 8%-10%.
In conclusion, return on marketing investment needs attentive eyes at all times. Once you put the effort to try new things and see what works and what don't, improvement is inevitable.