V-Count Introduces their New 3D People Counting Device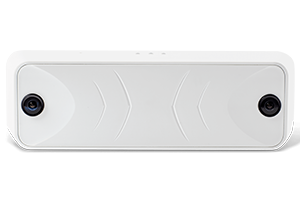 V-Count is introducing their new 3D people counter that has up to 98 per cent counting accuracy. This new technology can calculate depth, and therefore can differentiate between adults and children as they pass under the counter. Not only that, this groundbreaking device can work outdoors too, meaning it can count people in direct sunlight conditions and also on public transportation. V-Count 3D also presents the option to calculate those who pass by your stores but don't enter. It can do so by being mounted with a slight angle at the entrance, and thus can keep track of people passing by the window displays!
Last but not least, V-Count 3D has the option of sending its people counting data over its own 3G connection, which means no Internet connection is needed on-site; making it the only "plug and play" 3D people counting device available in the Global market!
Interested in V-Count Cloud Solution but already using another People counting device? No problem!
V-Count is also expanding their cloud reporting services to clients that have other companies' people counters. V-Count will provide the full integration of their Cloud Solution into your existing hardware. No matter what your existing brand is, they will help you upgrade your reporting system by switching to V-Count, without having to purchase new equipment.
With minimum hassle and at no extra cost, V-Count will make your People Counting Solutions turn data into real profits.
***
Anyone interested in learning about the new solutions offered by V-Count can find out more by visiting them online at https://v-count.com.
About V-Count: V-Count is a worldwide company that provides people counting and retail analytics technology to businesses. They provide clients with innovative solutions for calculating conversion rates, measuring store performance, collecting data for funding and utilizing space. All of their people counting and cloud technology products are developed in-house, placing them ahead of any competitors.