V-Count's Campaign Manager: Track and Maximize Your Marketing Initiatives
Consider this: 3 brands offer products of similar quality, all their stores are well-managed, and there is a high level of customer service delivery across-the-board. What separates brand A from brands B and C? Easy, it's marketing. Marketing is one of the reasons Coca-Cola has two times the market share of Pepsi. The better your marketing strategies, the more people you are able to attract to your stores. Once you're assured of steady visitor traffic, all you need to do is optimize your conversion rate. Higher conversion means more sales and more profits, it means your business is ahead of the chasing pack.
Remember, however, that the foundation for all of this is a good marketing strategy. Business owners know this, and they are constantly testing multiple marketing campaigns in a bid to find one that works consistently. The process takes a lot of time, consumes a lot of resources, and there is little assurance of success.
V-Count, the leading provider of retail management software, offers a way to make the process more effective. The Campaign Manager feature allows businesses to measure and optimize their marketing campaigns, helping them save time, money, and man-hours.
Campaign Statistics: Follow the Numbers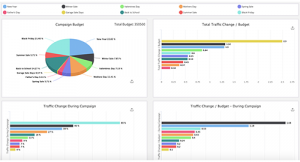 Say, for example, that a clothing store creates a 2-minute visual advert. The video was aired late in the evening, say, during the commercial break of a comedy TV show. By the next morning, the expectation is that visitor traffic to the store should increase a little. By evening on the third day, there should be significant uptick; if the ad is effective.
How does a store manager track these increases? Checking how much more sales were made in the days following the advert wouldn't be effective. Because one customer making an unusually big purchase flaws the whole data. What needs to be measured, instead, is how many more visitors entered the store, and V-Count's Campaign Manager offers an easy way to do it.
The feature has a tab designated "Campaign Statistics." This tab shows how many more people visited the store following the launch of a new advert campaign. If the 2-minute advert shows some promise, the manager may decide to also have it aired during, say, a fashion show to reach more of the store's target market. And Campaign Statistics can also be used to measure the effectiveness of that decision.
Learn, Improve and Optimize
Campaign Statistics also makes it possible for store managers to compare 2 or more advert campaigns. For example, if after airing the 2-minute ad on a fashion show, the traffic increase is much better, the manager may decide to stop airing it on the TV show. To improve results, the advert may be moved to another fashion-related TV program. Once done, the numbers are tracked once again to ensure that the strategy is working.
If a store has 3 or 4 running marketing initiatives at the same time, "Campaign Statistics" indicates which one is most effective. Ideally, the bulk of the store's marketing budget is directed to the best performing campaign. Also, should the manager decide to shut one of them down, the numbers make the decision much easier.
Furthermore, Campaign Statistics show how the store's conversion rate changes during every campaign. So, in addition to knowing how many visitors were attracted to the store due to the marketing effort, managers can also track how many of them made purchases.
In-depth Analysis with Campaign Lists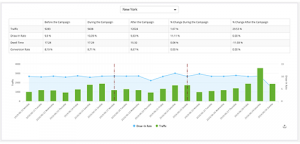 The Campaign Manager has a second tab that is designated "Campaign Lists," and it provides a more extensive analysis of how campaigns affect store traffic. If a retail chain has 6 locations in Los Angeles, a marketing campaign may be created to target all six stores. While Campaign Statistics track performance in each store, Campaign Lists provide an overview of how all the stores perform in the weeks following the launch of the marketing initiative.
Lists show how many more people visited store 1 in comparison to stores 5 and 6, and the conversion rate of each store. This information can be used to further improve the campaign's strategy and ensure that no store is left behind. By enforcing good performance across all stores, the campaign is maximized.
Integration with Other V-Count Solutions
V-Count's Campaign Manager can be combined with other V-Count solutions like the Heatmap. When the solutions are integrated, managers can track how new campaigns affect customer activity in and around their stores. They can measure draw-in rate, i.e., how many potential visitors passed by the store without entering. If it's low, marketing campaigns may be adjusted to include window displays at all stores, thereby attracting more passersby's. Customer dwell time, the time customers spent in each section of the store, can also be measured. This may be increased by improving product placement, optimizing store layout, and improving in-store operations.
The Campaign Manager is a feature of V-Count's Business Intelligence Platform. The cloud-based business reporting tool has proven effective in helping retail stores optimize staff scheduling, improve in-store operations, and manage queues better. With the all-new Campaign Manager features, the Business Intelligence Platform provides a means for businesses to benchmark store performance before and after marketing campaigns. Afterward, performance can be improved and optimized to ensure full maximization of all marketing campaigns.