Visitor Analytics: Technologies to Maximize Shopping Mall Traffic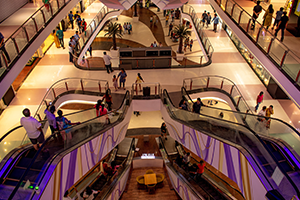 Shopping malls need to provide a comfortable environment for the retailers that rent their space, as well as the customers that visit them. Considering the complex layout of most malls and the steady stream of visitors they receive every day, however, this is no easy task. It is hard to keep track of scores of people walking around public space and it is even harder to manage their shopping experience.
For shopping mall managers, providing every visitor with a smooth shopping experience is of utmost importance. Satisfied visitors mean more future visits, providing stores in the mall with a steady stream of potential customers. As the mall attracts more visitors, it also attracts more retailers looking to secure space in the mall. More demand means higher rent.
Some analytics make it easier to keep track of customers and improve their "in-mall" experience. To measure these analytics, however, you need the following technologies:
People Counting Technology
With people counting technology, shopping mall managers can measure how many people are present in the complex at any given time. They can identify the busiest periods of every day and the busiest days of the week. These analytics can be used to improve staff schedules and restock mall supplies.
Shopping malls can also use visitor traffic data to measure the effectiveness of marketing campaigns and benchmark against past performance. When leasing out space to new retailers, traffic data shows how active the mall is and the number of visitors individual stores can attract.
Slow periods provide an opportunity for mall attendants and security personnel to take a break and prepare for the incoming traffic. It is the perfect time to change bathroom supplies and ensure that stalls are clean.
The more comfortable people feel in your mall, the higher the chances that they'll return. If traffic data shows low activity, you can implement marketing strategies to attract more visitors. People counting technology allows you to measure the performance of these strategies and optimize them.
Heatmap Technology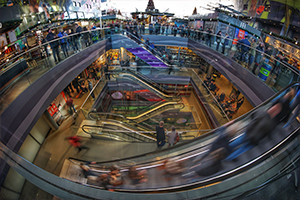 Heatmap gives mall managers the means to go deeper into visitor analytics. It tells you how people move around your space, which sections see the most activity, and how easy it is for visitors to find their way around your building. Plotting visitors' journeys through your mall allows you to identify choke points, avoid congestion, and improve mall layout.
Adverts can be placed along well-travelled pathways to increase viewership. To avoid bottlenecks and keep misdemeanors to a minimum, sections with higher traffic will require more attendants and security guards. Attractive displays can be used to improve traffic in less-visited sections.
Furthermore, heatmap data can be used to decide how much retailers pay for their spaces. Stores in prime locations should attract higher rents than those in sections with lower activity. Also, prospective tenants can be shown heatmap data along with traffic data. This shows them that the mall receives a lot of visitors, and a good percentage of them pass through the section their new store will be located.
Demographic Analysis Technology
This technology separates mall visitors into different demographics. It tells you the prevalent age range of your visitors, as well as their genders, and their moods as they move around your space. For example, if analytics from the tool indicates that 65% of your visitors are middle-aged women, it informs your marketing and leasing decisions.
When looking for new occupants, you can prioritize renting space to retailers that cater to your prevalent group. By presenting them with your demographic analytics, you show them that your mall receives a steady stream of their target market. The data can also be presented to resident stores to highlight the selling opportunities available to them if they stock their shelves with products that appeal to the prominent demographic.
Shopping mall managers can also create marketing campaigns to target the less prominent groups e.g. younger/older men and women. The more diverse the demographic distribution at your mall is, the more attractive it is to retailers looking for store space. An even distribution also means more visitors and increased selling opportunities.
The mood recognition part of the system tells the mall manager how happy visitors are when they leave the building VS when they entered. Unsatisfied visitors will not return; it is important to identify pain points and provide quick resolutions.
The technologies above enable shopping malls and retail stores measure how visitors behave in their physical spaces in the present and analyze their past behavior. The resulting analytics is then used to predict future behavior, making it easier to provide every visitor with an optimized and personalized shopping experience.
To leverage any of them for your shopping mall or retail store, visit V-Count.com now and see if you qualify for an ongoing free trial.