Visitor Analytics Technology in the Banking World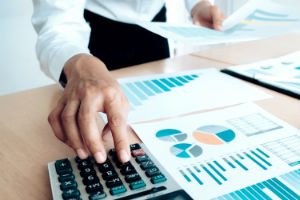 The online world is changing the way people do business. Everything online is tracked. From page views and impressions to individual keystrokes, the digital realm offers valuable data and consumer awareness for businesses wishing to improve how they market to their clients. But what about face to face interactions? Limited means of tracking physical business interactions cause companies to miss out on important customer information.
The use of visitor analytics technology is on the rise as businesses struggle to remain agile in changing markets. Shopping malls, hotels, and even banks can benefit from these valuable new solutions that offer insight into everyday marketing problems.
Ensures your Branch is Properly Staffed
Visitor analytics technology does more than record the number of customers in your establishment. Tools like people counting, heatmap analysis, and queue management all help understand the day to day demands on your staff and make sure your bases are covered as business fluctuates throughout the workday. These tools help to learn about areas in your location where people tend to congregate, and areas that receive little to no attention at all. Properly arranging staff on your floor ensure all customers feel taken care of and prevents instances of missed service and cross-sell opportunities.
Gauges the Mood of your Customers
Demographic Analysis, not only tells you who is visiting your bank but also provides valuable insight into their emotions. With this information, your branch tellers can better understand how to service the customers in their line effectively.
With the data provided by this solution, in-branch digital displays can be updated according to the age group and genders of the patrons.
Analyzes Branch Performance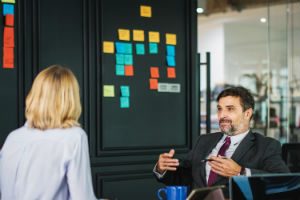 By placing visitor analytics technologies in multiple branches, you can learn which locations are performing well, and which could use a little help. Visitor analytics technologies can provide insight into which branches are busier and when, what customer demographics each location is attracting, which marketing efforts are most effective, and how often foot traffic leads to new financial products purchases.
Staff exclusion solutions prevent people counting systems from tracking employees as customers, ensuring you get the most accurate information possible.
Properly Manages your Customer Queue
Almost 77% of the customers do not return to a location if they have the experience of waiting in long lines. If your customer queue is not appropriately managed, you could be missing out on revenue for your business. Queue management solutions send alerts to your bank tellers when the number of the customers waiting in line exceeds preset limits, helping you to know when to deploy additional staff members. The device is installed over your branch's waiting area and can monitor the entire scope of your line, depending on building size and room composition.
The goal of these technologies is to enhance the experience of your customers while they are visiting your bank. Demographic analysis, queue management, heatmap analysis, and the Business Intelligence Platform, work effortlessly to track and report back valuable consumer data analytics. V-Count solutions work to help better staff your branches, track location performance, gauge the mood of your clients, and adequately manage your customer queue.
As businesses change with developing technologies, you must continually seek out new ways to reach your customers. Visitor analysis technologies provide valuable insight for your business and help you remain agile in the face of the digital age.
V-Count is a proven provider of visitor analytics technologies, with experience in delivering consumer data to nearly every industry. Our solutions empower businesses to take control of their establishments and harness consumer data in a way that adds value to the customer's experience.
Click here to get in touch with a V-Count representative and start your free trial today!