Manage Your Occupancy Limits in Real-time
Benefits of Real-time Occupancy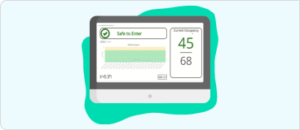 Monitor Occupancy & Traffic in Real-Time
Follow government social distancing guidelines from the live occupancy dashboard. Integrate the occupancy data into your own application through API, allowing your customers to check the live traffic numbers in the nearest store.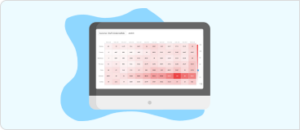 Health & Safety Measurements for Staff
By tracking customer to staff ratio throughout the day and per hour. Contain the total number of customers in-store each staff member is subjected to, limiting the spread.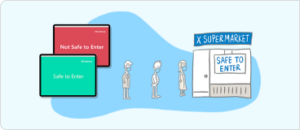 Display The Occupancy Recommendation
On digital screens facing outside the store, to coordinate queuing and waiting time of customers. No Integration required. Plug and play. Keep visitors outside the store informed with visual alerts and warnings suggesting when occupancy limits are breached or when it is safe to enter.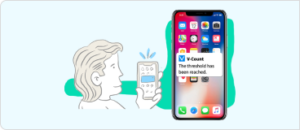 Enable Email & Push Notifications
To be informed when visitor traffic thresholds are being breached. When the store occupancy reaches the designated threshold, store staff instantly get notified to control in and out for safety precautions.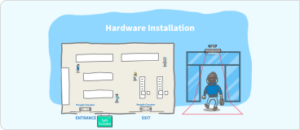 Efficient Real-time Occupancy Control
We use people counter devices at the entrances and exits of your store to accurately and anonymously count how many customers are going in and out of your building, giving you real-time occupancy data on the number of customers inside your store.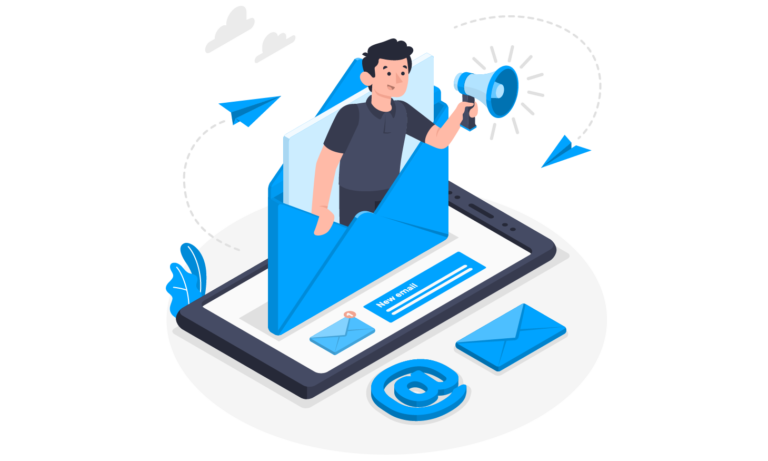 Subscribe to our newsletter
In a rapidly evolving business landscape, staying informed is not just beneficial—it's imperative. Subscribe to ensure you remain at the forefront of visitor analytics industry knowledge.
Frequently Asked Questions
How does real-time occupancy work?
V-Count sensors provide the in and out visitor count in real-time. The specific occupancy limit can be set for each area. If the threshold is breached for occupancy control according to legal regulations, the system provides real-time alerts to the person in charge.
Can the solution provide real-time alerts?
If your traffic numbers exceed your pre-set occupancy limit, VCare will send you real-time alerts. Additionally, real-time occupancy levels can be seen on the display screens at all times.
What display screens can we use with VCare?
You can use any display screen to show the occupancy level of your location. The display screen text is available in 14 languages, and the text is customizable.
What metrics can I see in the dashboard?
Real-time occupancy numbers, Safe to enter/Not safe to enter warnings, and real-time occupancy levels with line and historical graphs. You also have the ability to change the options and set real-time reports.
What should I do before installing the real-time occupancy system?
Our team of experts can provide you with personalized assistance depending on your needs. We will advise you on the suitable solutions, the right number of sensors, the suitable sensor locations or zones, and the installation and setup of the sensors and analytics platform.
Can we import and export any solution data to our system?
Yes, you can import your data into our dashboard manually or automatically with an API. V-Count analyzes the correlation between sales and other data. You can also export the data through an API and use it in your management systems.
Do you have technical support in my country?
Our configuration and updates are managed remotely. But in case you need on-field support, we provide a professional service to all our customers with International Technical Support Team.
Does V-Count team provide installation in my country?
We are globally available all around the world. We provide a professional service to our customers with the International Technical Support Team.
Can V-Count sensors count in the dark?
Our 3D active stereo vision technology allows counting people in complete darkness. 
Can V-Count sensors accurately count the people entering and exiting too closely?
Our state-of-art 3D active stereo vision technology and AI-based target tracking can deliver up to 99.9% counting accuracy with HD resolution. It processes the combined images and creates depth maps to provide accurate and reliable counting.