2020 has been the year for terms like "social distancing" to become the norm. For months now, we've been riding out the coronavirus pandemic from our homes. We've turned to remote working, virtual happy hours with friends, and fitness apps just to stay sane. When it comes to consumption, many of us will emerge from this crisis with new ways of doing things.
Businesses like retailers and shopping malls, in particular, will need to adapt fast as shoppers look for spaces where they can feel safe. 
Maintaining occupancy limits and social distancing guidelines in a commercial setting is a crucial benefit that people counting cameras are providing under the current circumstances. However, implementing people counting measures doesn't just serve as an emergency plan for any pandemics; it also offers a range of benefits that your business can leverage in the long-term. 
With the occupancy data provided from people counting software, businesses across all sectors can save costs and optimize space, as well as provide long term ROI as we ease out of the safety measures and lockdowns put in place to help control the spread and minimize the effects of COVID-19. And while many businesses have started using people counting solutions to comply with government requirements, the versatility of the data collected can deliver many long-term results: 
Enhanced Customer Service
Using a people counter solution gives insights into some key metrics that are essential for any kind of business. Dwell time helps determine which areas of your store customers spend the most time in, and which areas are ignored completely. This will help you discover your consumer's journey better, and thus enable you to optimize your layout to get the most out of how your customers interact, use, and move around through your space.
Improved Operational Store Processes
Identifying customer traffic patterns within a physical space offers the potential to optimize staffing costs and efficiency. Visitor behavior analytics can show the times and spots where staff levels can be reduced or increased during quiet periods or peak hours.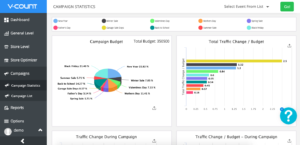 Measuring & Improving Marketing Effectiveness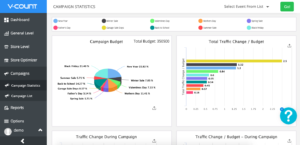 Are your store's displays resonating with your audience?
Tracking your foot traffic performance during the duration of your marketing campaigns can give you an indication of your marketing campaigns' success. This will help you decide if specific marketing channels are worth the investment and give you ways to improve on them.
V-Count's metrics and solutions allow you to make better marketing decisions by analyzing your marketing campaigns and their effect on your visitor traffic trends. The demographic analysis feature allows for the integration with 3rd parties to make it align with the advertising in your street displays for your stores. Heatmaps can be used to optimize in-store promotions and campaigns by analyzing which areas are more crowded and popular.
Figuring Out Visitor Trends
While visitor traffic data can vary widely depending on the type of business as well as location, looking at general visitor trends can give valuable insights on how the industry is doing as a whole.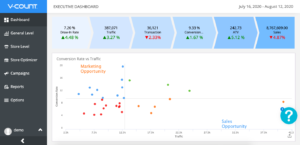 Increasing Conversion Rates & Revenue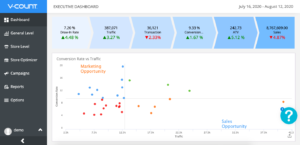 Gaining insights into the times that people visit your stores, how long they dwell in your location, and the specific areas that they frequently visit will help you get to know your customers better. All this data will allow you to understand your shoppers thoroughly, and thus attract more buying customers, improve campaigns, and offer an overall better shopping experience to increase conversion rates and revenues.
Evaluating Business Expansion Opportunities
Foot traffic is a useful metric to have when you're looking into expanding your business and opening more stores or branches in other locations. Being knowledgeable about your existing customer traffic data will give you benchmarks and reference points to use when evaluating other retail spaces and opportunities.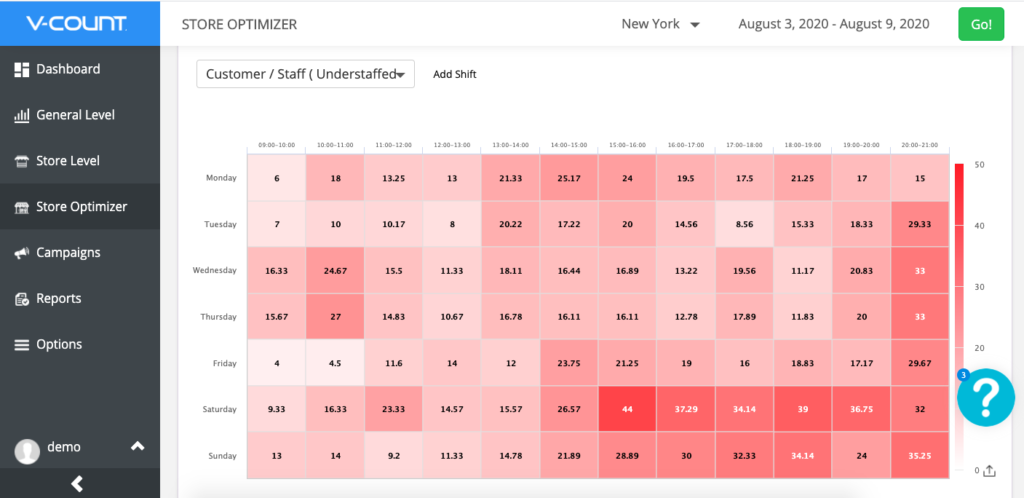 Optimizing Staff Scheduling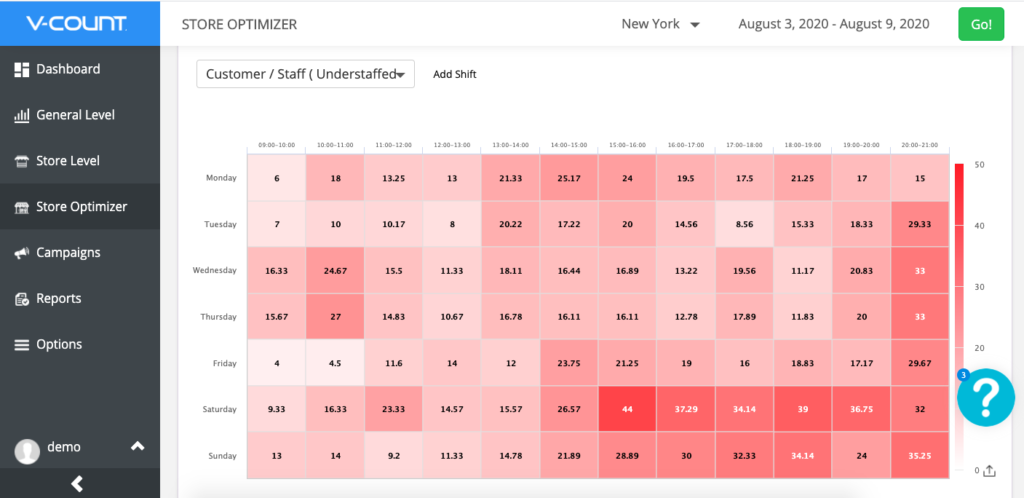 Retail staffing requires balance. You want to have enough people on the floor to serve shoppers, but you don't want to over-staff your store and put too many employees on the payroll.
Translating Data to Optimize Performance
People counting gives you the data you need to understand and compare performance across multiple stores within a franchise worldwide, allowing you to benchmark best-performing stores and improve on low-performing ones. 
Reduced Costs
With many shifting to remote working, businesses are starting to reassess their space needs. People counting solutions can show you how to best utilize your space by building, floor, or even on an individual room level.
Improved Eco Footprint
People counting sensors have the ability to turn off energy usage when a room is detected as unoccupied; this reduces unnecessary energy and amenity costs.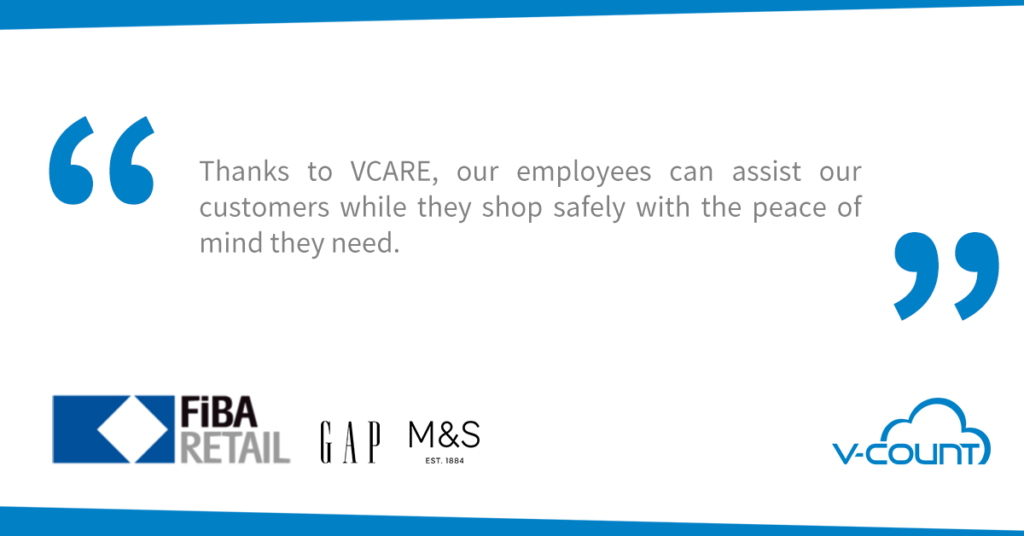 Adapting To New Customer Needs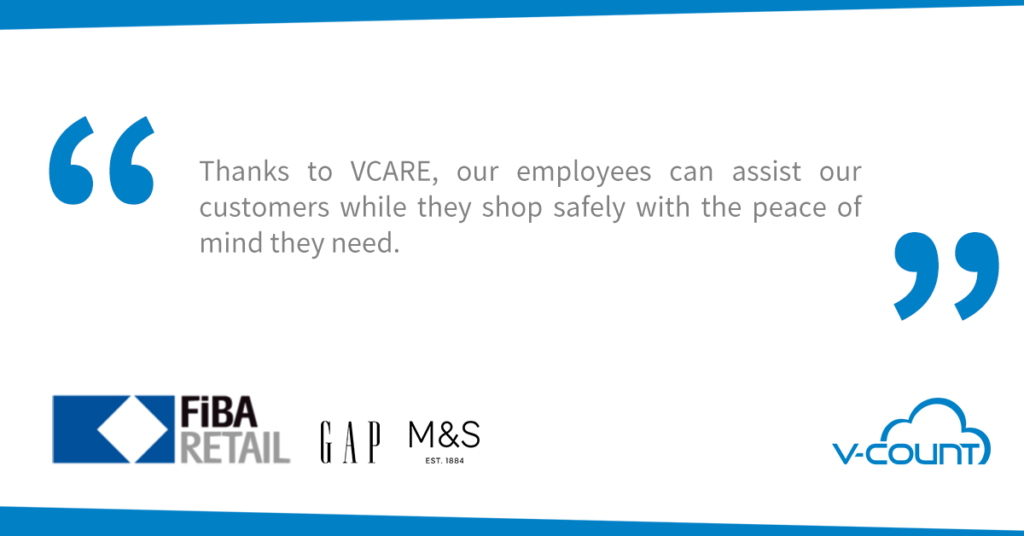 Although the current measures to control the spread of COVID-19 are lifted, consumers will still want to see brands practicing safety measures into the future.
V-Count has partnered with Fiba Retail to use our VCARE occupancy solution in over +80 Marks & Spencer and GAP stores to deliver a safe shopping experience for customers and staff alike.
VCARE is a people counting solution for your business to help you cope with COVID-19 and beyond. It is an advanced system that enables many future benefits.
Stay up to date and follow our periodical announcements here for the latest on how to manage physical distancing with our people counting occupancy solution.