For the 3rd year in a row, V-Count is proud to be named among the winners of the Deloitte Technology Fast 50 Awards 2020. Within the Technology Fast 50 Turkey Program, the most successful and upcoming technology companies in Turkey are ranked according to their top-line performance.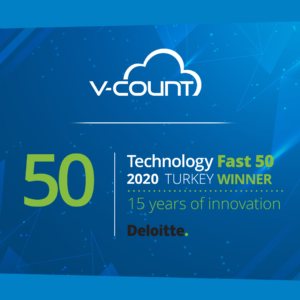 The Deloitte Technology Fast 50 Program is part of Deloitte's global Fast 500 program, which runs simultaneously in many other countries. The Technology Fast 50 program was first introduced in Silicon Valley back in 1995. Today, it is executed in over +35 regions world-wide.
The Deloitte Technology Fast 50 is one of Turkey's top technology award programs, celebrating innovation and entrepreneurship. Now in its fifteenth successful year, it ranks the country's 50 fastest growing technology companies, driven by leading intellectual property and based on revenue growth over the last four years.
"Being selected as one of Turkey's fastest-growing technology companies is a great recognition of our quality products and services. We are proud of our team, partners, and customers for contributing to this great success," said Demirhan Büyüközcü, CEO of V-Count.