How Can You Increase Conversion Rate By Knowing Your Magical Staff/ Customer Ratio?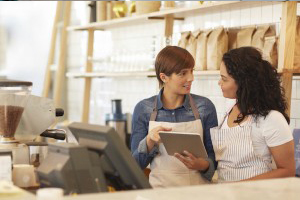 Retailers use different strategies to attract visitors into their stores and increase traffic. They also deploy a lot of sales tactics to reach the sales volumes they target. However, the sales volume and the traffic itself are not sufficient to understand the real performance of a retail store. The financial performance of a retail store depends on its ability to successfully convert its visitors into paying customers.
Why Choose People Counting & Traffic Analytics‎ Technology?
Benefiting from people counting systems is crucial because it all starts with measuring the traffic and continues with interpreting the data once people are engaged in your stores. Customer behavior should be observed from the beginning to the end.
It is great if you draw a lot of traffic to your stores. It is even better if you have the right product at the right place for the right price. Nevertheless, it may still not necessarily lead to efficient sales figures. One of the most important data retailers can have access to is their store conversion rates. By calculating how many of their visitors turn into actual paying customers, when and why, retailers can have a much clearer picture of their performance.
The reason for lost opportunities even when the shopper is in your store with the intent to buy, lies in the unsatisfactory experience they have. Brick and mortar retail is all about the experience. The human factor is the main driver of great customer service. You have to have a specific number of personnel on different occasions. This is what we call magical staff/customer ratio and knowing this ratio will enable you to achieve a higher conversion rate.
Your staff resources should be able to match the occupancy of your store and present the necessary experience for prospects to buy. One of the most occupied time spans for retailers is lunchtime. Obviously, your staff has the right to have a break and eat, but if your prospects are in your stores and most of your personnel is having lunch at the same time you are going to lose a lot of sales. Your prospects may need or want the help your personnel can provide. Make sure you know the peak hours of your store and set your staff schedule accordingly.
In addition to this, one in every 3 people who wait longer than 5 minutes to pay leaves the stores. This makes you lose potential transactions in the short term and repeating customers in the long term. You have to be aware of the occupancy of your stores and direct your personnel to closed cash registers if necessary to decrease the time of sales cycles. Your customers will remember how easy it was to choose an item and pay for it in the shortest possible time. This convenience you provide will be appreciated by your customers.
Ensuring your staff understands the importance of conversion rates and influence the whole process will drastically improve your stores' performance. It is not a difficult task to overcome as long as you measure it and take the necessary actions. The retailers who are dedicated to increase their conversion rates by customer satisfaction are way ahead of their counterparts who don't.