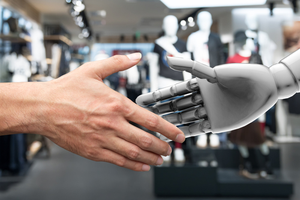 The digital transformation of the retail industry has been ongoing for some years. Thanks to high-level data and visitor analytics systems, companies are making well-informed and data-driven business decisions that help increase sales, marketing efficiency, and revenue across each branch. None of those insights would have been possible without artificial intelligence. AI in retail has empowered businesses to leverage advanced data to improve their retail operations and find new business opportunities.
As brands compete to remain relevant, understanding why AI has become a go-to solution boils down to some key factors. First, AI offers traditional retailers a chance to make the most out of their brick-and-mortar operations. It also elevates the capacity for personalization for consumers that demands tailored experiences. Additionally, the maturity of the AI market for the retail industry is substantial, with analytics technologies transforming from just theories to smart applications that can show, prove, and yield ROI for their users.
Research-backed Forecasts
Juniper Research predicts that retailers will spend $7.3 billion on AI by 2022, compared to approximately $2 billion spent in 2018.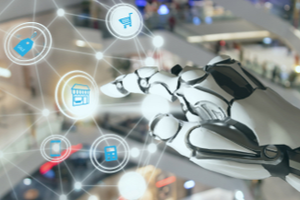 Another study by IBM has found that the adoption and implementation of AI technologies are set to boom in both the retail and consumer products industries. The study found that 85% of retail and 79% of consumer products companies plan to use intelligent automation by 2021, and a further 79% of companies are expected to be using AI for customer engagement by 2021.
Physical Store Experiences Will Remain Fundamental
Consumers will continue to shop in physical stores now and in the future. Retailers must continue to make use of their physical locations to better connect with their customers. This doesn't mean that the physical experience is somehow more important than the digital, but a crucial component of an effective overall omnichannel strategy.
Current day consumers are no longer single-channel shoppers, and this makes it essential for businesses to provide seamless fluidity between online shopping and physical stores with AI solutions. By understanding and predicting the customer journey within physical locations, AI solutions can empower retailers with smarter, more profitable decisions.
The next frontier of innovation
With the help of AI applications like people counting, queue management, heatmaps, demographic analysis, and real-time occupancy, retailers can capture and monitor data in their physical locations, and directly improve their operations' efficiency and shopping experience.
Insights from these AI-powered solutions are helping retailers run a smarter business and allowing them to observe shoppers' footfall traffic. As AI capabilities mature, features open up entirely new ways of doing business that can increase operational agility and improve the quality and speed of decision making. This clears the way to deliver customer experiences that convert more of their traffic into revenues and minimize queue abandonments.