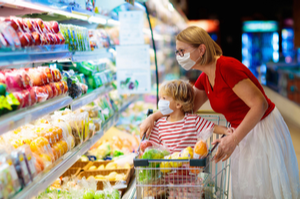 Pre-pandemic, grocery stores tended to be cautious when it came to rolling out new in-store technologies. The possibility of alienating or confusing customers was a risk, leading many supermarkets to play it safe and reserve the latest tech for their headquarters stores only. But the recent pandemic crisis has changed consumer needs and brought with it a set of unique challenges around keeping customers safe within the aisles of grocery stores and gaining their trust.
In response, supermarkets have been quickly establishing in-store technologies – like customer counting and occupancy monitoring systems that assist in social distancing and queueing management solutions for customers to minimize their waiting times at checkout queues and prevent overcrowding.
The COVID19 era has definitely accelerated grocery stores' existing technology strategy since supermarkets, and their customers, are now more open to technology solutions than ever before. Previously, tech spending had been focused on back-office automation and efficiency. Now, however, customer-facing tech is emerging as supermarkets look to support a low-touch environment and increase customer safety by following social distancing measures.
In-store technology has played an integral part in helping supermarkets stay open and safe during this time. Here's how:
Live Occupancy Monitoring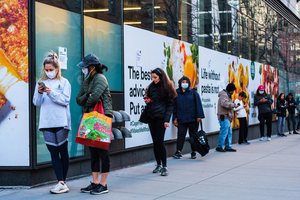 With various occupancy capacity regulations limiting the number of shoppers that could safely be in stores at any one time, several supermarkets have rolled out occupancy monitoring solutions. Such solutions are used to notify customers whether it is safe to enter or not, depending on whether the store is at maximum safe occupancy capacity or not.
V-Count VCare real-time occupancy solution helps grocery stores manage incoming visitor traffic with digital screening to ensure optimum security and proper social distancing at various entrances.
Supermarkets can communicate the safety status of stores to customers by integrating occupancy data into their own mobile applications through an API. Staff can enable notifications to be informed when visitor traffic thresholds are breached.
Grocery store operators can use occupancy monitoring systems to optimize energy usage and improve facility management by providing deep cleaning & sanitization periodically depending on traffic.
Many supermarkets are also rolling out queue management systems so customers can avoid waiting in line for long at checkout queues
Social Distancing
V-Count's Ultima AI notifies staff when social distancing regulations are not followed inside facilities, allowing immediate action to ensure safety.
Face Mask Detection
COVID-19 regulations made it an obligation to wear face masks at all times when out shopping in grocery stores. To ensure compliance, supermarkets are considering implementing face mask detection technologies.
Such technologies use sensors, like V-Count's Ultima AI, to identify individuals who are not wearing face masks and instantly alert staff to ensure maximum safety.


Pre-pandemic, supermarkets approached tech in a relatively narrow way. Now, they are open to scanning the horizon for tech solutions that help with their part of the customer journey.
As grocery stores and supermarkets rush to make the changes needed in the current COVID-19 environment, eyes can't focus simply on temporary fixes. People Counting technologies can promise everything from occupancy counting to customer engagement and staff management to operational efficiencies. The solutions to today's challenges can become the platforms for future success.