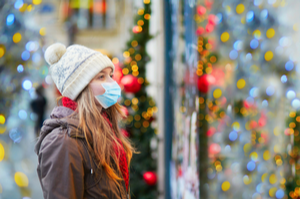 As non-essential shops ease on lockdowns and reopen in time for the festive season, social distancing and long queues may cause issues for retailers. With V-Count's people counting solutions and advanced technologies, retailers can gear up for the imminent Christmas demand.In 2015, a report found that 86% of people will avoid a store if they deem the queue too long. Meanwhile, 70% are less likely to return to a store if they experience long waiting times, even if just one occasion.
Nearly half a decade later, the Covid-19 pandemic has undoubtedly led to a new wave of shoppers who are serious about their safety and have become more demanding than ever.
2020 has made social distancing a must for all individuals in order to prevent a further spread of COVID-19. Consequently, businesses and building managers in the commercial and public sector look for ways to control occupancy on-site in time for Christmas shopping. Maintaining a safe space between people will be essential to tackle in order to resume normal activities that require the gathering of people in enclosed spaces.
Due to official social distancing guidelines, bricks-and-mortar retailers also face the challenge of long queues. Although customers shopping for products in fashion or electronics can easily buy them online, non-essential brick-and-mortar retailers may still be facing the issue of long queues as they reopen in time for one of the busiest trading periods in the lead-up to Christmas.
In spite of this, essential health and beauty retailers and grocers are more likely to take the brunt of the challenge of reducing queues. In the lead up to the festive season, queueing outside in the cold weather is likely to cause problems for consumers.
Can Technology Help?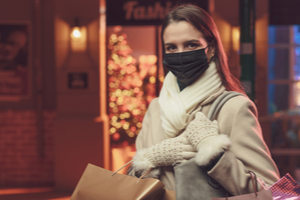 As technology continues to modernize retail, solutions like queue management, real-time occupancy, and social distancing sensors can take the pressure off of brick-and-mortars.
V-Count's customer queue system minimizes the time customers spend waiting in queues at checkout to achieve the most effective customer service and avoid potential losses caused by long lines.
There are two types of social distancing sensors (SDS); the first is a device that can be worn to notify individuals of their proximity to others by making a beeping or buzzing sound. This type of device sends out a signal to its counterpart and alerts the wearers of any compromise to their personal space.
For example, guidelines in most countries suggest a 1.5m-2m distance. This, however, only tackles the distance aspect between people who are already on-site, rather than allowing you to control footfall from the get-go.
The other type of social distancing sensor is a people counting or an occupancy monitoring sensor that counts individuals as they enter and exit an area, giving you an accurate picture of occupancy capacity levels. Using real-time occupancy data with display screens that communicate whether the zone is safe or not to enter allows you to control how many people are in your store and prevents overcrowding before it even happens.
The VCare real-time occupancy solution allows you to Follow government social distancing restrictions on COVID-19 by anonymously tracking & managing incoming visitor traffic with digital screens to keep your customers and staff safe.
V-Count's Ultima AI: The Ultimate People Counting Sensor
Ultima AI is the next-generation people counting/tracking sensor. With its advanced capabilities, it offers an unmatched accuracy up to 99.9%. Ultima AI uses the most advanced 3D active stereo vision technology to offer state-of-art features like auto-calibration, night vision, an outstanding wide field of view, and many more.
Ultima AI also combines all the top solutions from people and zone counting to queue measurement and real-time occupancy into the thinnest people counting/tracking sensor in the world.
Stay up to date and follow our periodical announcements here for the latest on how to manage social distancing with our Ultima AI people counting sensor and advanced solutions.