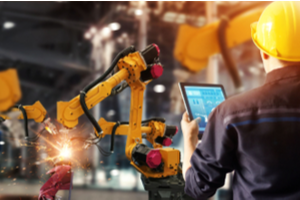 In light of the coronavirus pandemic, the manufacturing sector, like most industries, has been greatly affected. This includes manufacturing and chemical plants, food processing plants, warehouses, distribution centers, and port operations.
Adhering to safety regulations has allowed the manufacturing sector to continue operating throughout the crisis, but only a few have managed to function fully. Aside from the necessary safety measurements like frequent cleaning, wearing face coverings, maintaining social distancing, and increased ventilation, there are several priority actions to pay attention to when working in or running factories, plants, or warehouses that make working safer during the coronavirus:
Use Personal Protective Equipment (PPE) only when appropriate. When managing coronavirus risk, additional PPE beyond what you usually wear is not beneficial in most situations. 
Work with the same team every day. Use fixed groups or shifts to reduce the number of people each person comes into contact with.
Arrange workspaces to keep staff apart. Consider using barriers between work stations or introduce back-to-back or side-to-side working.
Inbound and outbound goods. Minimize deliveries frequency and use the same people for load handling where more than one person is needed.
COVID19 has altered the way people work. Maintaining a safe and people-conscious work environment and increasing productivity without compromising workers' health and safety has become a top priority for manufacturers and factory managers.
V-Count's people counters and data analytics technologies offer a comprehensive solution for many of the manufacturing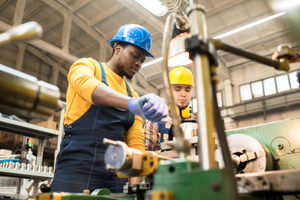 sector's challenges. Our state-of-the-art footfall counters and people counting software grant access to accurate traffic and occupancy data that allow management teams to implement and oversee safety measures with absolute confidence. This ensures that hygiene standards are followed and improved and that social distancing guidelines are maintained consistently.
Occupancy & Social Distancing
Employees' health and safety are a central focus for many businesses at the moment. In manufacturing, this translates to creating a workspace for employees that is safe enough for them to work and get around the facilities while also allowing sufficient social distancing. For example, some high traffic areas like receptions, cafeterias, and washrooms pose a significant risk for both staff and guests.
Traffic counter sensors can monitor footfall numbers and help managers identify any issues with space planning or limitations. With actionable data, informed decisions can be made to control the occupants' number in these areas and optimize the floor space so that over-crowding doesn't occur.
V-Count's real-time occupancy solution VCARE can help facility managers track footfall traffic throughout the whole building in real-time. Customized messages can be displayed on screens at the entrances to inform both employees and visitors when occupancy capacity limits are reached in specific zones. With door counters, all entrances and exits can be monitored so that employees can always have a clear idea about the number of people in one area.
Facility Management & Hygiene
Due to COVID-19, hygiene efforts in manufacturing facilities must be amplified. Reception areas, canteens, and washrooms should be cleaned more frequently than before, especially between usage. This means that production may be paused at specific times during the day to allow the cleaning staff to disinfect highly used zones. This process can be both costly and time-consuming, especially for factories that operate within schedules and shifts.
A customer counter gives accurate data and insights into high-usage zones. This provides facility operators with the data they need to make cleaning roster tasks easily manageable, time-saving, and efficient. For example, if a particular area is more used during morning hours, cleaning can be scheduled later on, and if an area hasn't been used all day, a deep cleaning may not be required.
Optimizing Floor Planning
For the manufacturing industry, space planning should be a top priority. Mapping out a layout and design that's safe isn't only crucial for efficiency, but these efforts can also create a better working environment for employees. 
Footfall data from people counters allow manufacturers to see which areas are underutilized and which areas can be optimized. Management teams can easily use the data to tackle floor planning issues, create safer one-direction pathways between machinery or work stations, and optimize the space. From a technical standpoint, you can also learn how frequently machines get used by workers and schedule routine maintenance before issues arise. 
Implementing people counting and occupancy monitoring systems will allow facilities to improve productivity while keeping workers safe. With your manufacturing facility reopening and returning to production, making changes is going to be necessary. The V-Count VCARE live occupancy monitoring solution empowers your business to ramp up production, optimize management efforts, and ensure your employees' health and safety.