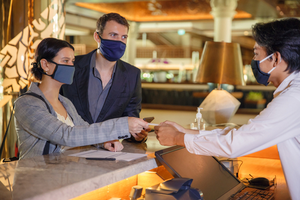 Over the past few decades, the global hotel industry has faced and recovered from its fair share of crises. Still, nothing has shaken the hospitality sector quite like the current COVID-19 pandemic.
In light of recent events, hoteliers were forced to re-evaluate their fundamental strategies for business survival & revival, HR policies, daily operations, and technological investment. With this unforeseen global pandemic, how will the hospitality industry adjust? What will hotel recovery plans be? How can hoteliers re-examine their technology strategy to protect their guests' experiences in the future?
Hotels and other guest accommodations like B&B's, inns, and motels, etc., should work to reduce risk to the lowest level by taking some necessary precautionary measures. These measures include the following:
Complying with the social distancing guidelines.
Increasing the frequency of handwashing and surface sanitization.
Using back-to-back or side-to-side working for staff instead of face-to-face.
Using fixed teams to reduce the number of people each person has contact with.
Using fixed screens or barriers to separate people from each other.
In the long term, however, these measures may not be enough to restore customer confidence in staying at a hotel. Today's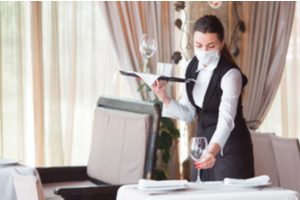 "new normal" has already driven each hotel and travel & hospitality company into swift and decisive action. Hoteliers and hospitality businesses are leveraging technological advancements to reimagine their customer journey and differentiate themselves in the marketplace by meeting new and arising customers' needs.
Hotel entrances may start using thermal scanning, and guest rooms and conference meetings facilities will be more frequently sanitized. Connected room technologies would allow guests to control the lights, temperature, curtains, television, entertainment, and more in the room with their smart devices or contactless gesture control.
Enabling technological support will be critical for these operational changes. Hotels will need to continually track customer feedback and manage inevitable setbacks and negative reviews with tweaks to their customer experience strategy.
Post-coronavirus, the hospitality environment will evolve to include:
Staff automation that takes into consideration trending customer needs and behaviors.
Analytics that make the most of customer data. Many hotels are capitalizing on smart solutions and data analytics to make informed decisions and increase their service personalization and flexibility.
Enabling mobile device functionality to make it easier for guests to seamlessly make, change a reservation, or check out of a hotel in a touchless manner.
Security measures that cover both safety & customer data and fully comply with all local, federal, and industry-driven regulations.
Related: How Technology Transformed the Customer Relationship
How V-Count Helps
With V-Count's various solutions like people counting and real-time occupancy, hotel businesses can easily comply with social distancing regulations. By accurately measuring people's flow and occupancy status, hotels can ensure that both guests and staff remain safe, and keep track of periodic sanitization for different zones like conference rooms, restaurants, or elevators.
V-Count's visitor analytics solutions provide actionable data necessary to personalize the guest's hotel stay. By using customer analytics to study and learn from guests' habits and interests, you can tailor a travel experience to meet the ever-changing needs of your clientele.