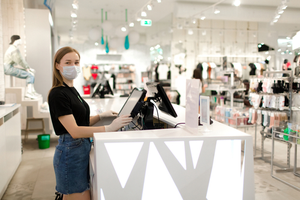 It's possible to operate brick-and-mortar retail stores in the times of coronavirus safely. With a third wave of the COVID-19 pandemic surging worldwide, government regulations are set in place in cities across the globe once more to implement or reinstate strict protocols meant to combat and limit the spread.
The latest restrictions are imposed on bars, cafes, malls, stores, restaurants, and places that provide potential hotspots for the virus to spread. It is now mandatory to wear a mask while shopping in most countries, even forcing retailers to enforce that, along with social distancing.
Store reopenings have also been rocky, as some customers may refuse to wear a mask or maintain social distancing from others, leaving store staff in the position of enforcers. Relying on staff members to count individuals in and out of your building using manual clickers is likely to waste resources and tie up employees in activities that don't necessarily contribute to business success. What's more, manual people counting is predisposed to human error.
Customer comfort and confidence increase when businesses take precautions like regular cleaning and are transparent about their safety procedures. With uncertainty about effective treatment and vaccination, it's likely that we will have to continue with preventative measures for the foreseeable future. This includes mask-wearing and social distancing adherence.
There is a clear opportunity for businesses to take specific actions that will increase employee and consumer confidence.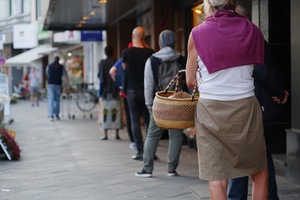 Safety has become a selling point; most reopening retailers have taken extensive steps to ensure their workers' and customers' health and safety, including cleaning, masks, Plexiglas shields, people counting technologies, occupancy sensors, and many more.
There are various solutions on the market, like V-Count's real-time occupancy, which helps businesses comply with government social distancing restrictions on COVID-19 by anonymously tracking & managing incoming visitor traffic with digital screening at the entrances.
Occupancy sensors can also provide an added benefit for your operations team and cleaning staff by allowing them to monitor different areas' usage. They can provide more frequent cleaning and sanitization once a threshold has been reached, ensuring that your facilities are always disinfected and clean.
If safety protocols are followed strictly, retailers can safely run their stores. Businesses should assess their environments rather than treat local regulations as a license to only adhere to minimum precautions.
Today's consumers want to see that retailers are doing so, and publicly displayed safety precautions go a long way to increase trust and confidence in that business. Efforts to improve your facilities by integrating smart technological solutions such as social distancing and real-time occupancy will help you remain responsive and adapt to the new behaviors and ensure that your staff and customers are protected and safe.
At V-Count, we always strive to deliver high-quality products and services. We want to help businesses worldwide reopen safely by managing people's flow smoothly and efficiently with our smart occupancy solution VCare.
Stay up to date and follow our periodical announcements here for the latest on how to manage social distancing with our people counting occupancy solution.