Public restrooms are considered one of the highest traffic areas for businesses like shopping malls, restaurants, supermarkets, gas stations, or office buildings. Typically, restrooms are small in size and can get crowded very quickly, making it impossible for social distancing to efficiently occur.

The Impact of Restrooms on Customer Satisfaction
Covid public restroom safety has been growing in importance since the pandemic outbreak. However, maintaining public or office restrooms and other types of restroom facilities at your business locations is something that is often taken for granted as many businesses have no staff specifically assigned to maintain restroom hygiene. While this may be effective in reducing labor costs, public restroom statistics show that poorly maintained restrooms can negatively affect customer satisfaction.
The annual Healthy Hand Washing Survey conducted by Bradley Corporation reveals that almost 50% of Americans say they will "definitely" or "probably" spend more money at a business that has clean, well-maintained restrooms. 
In addition, nearly 60% of Americans say they use a public restroom at least one to five times a week and are likely to make a conscious decision to visit a specific business because they know it has nice restrooms. 
The survey confirms that public restroom users tend to think poorly of businesses with dirty restrooms. An unclean restroom can ruin the image of a business in the consumers' minds. Most Americans say that a messy restroom signifies poor management and shows that the business doesn't care about its appearance or customers.
One way to effectively monitor public restroom cleaning procedures at your business is to install people counters that track the number of people as they go in and out of the bathrooms throughout the day. People counters can help you provide a better restroom experience to your customers.
Here are some of the benefits of using people counting solutions in public restrooms:
Limit Occupancy for Hygiene and Social Distancing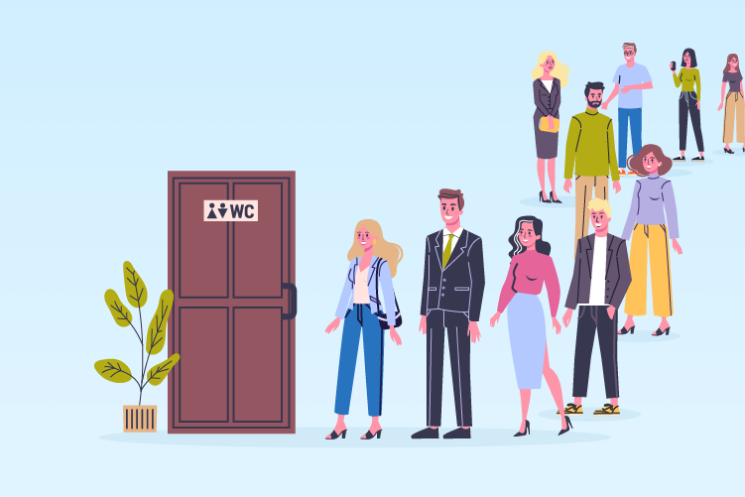 Installing occupancy counters in restrooms also allows you to track toilet queues and monitor restroom occupancy at any time. Public restroom occupancy limits allow for social distancing and minimize the risk of Covid transmission.
The VCare real-time occupancy monitoring solution can accurately and anonymously count people entering and exiting the restroom to follow occupancy capacity limits and avoid overcrowding.
Display screens at the entrances of your restroom inform your visitors whether it is safe to enter or whether they should wait until someone vacates the area.
Schedule Restroom Cleaning in Accordance with Occupancy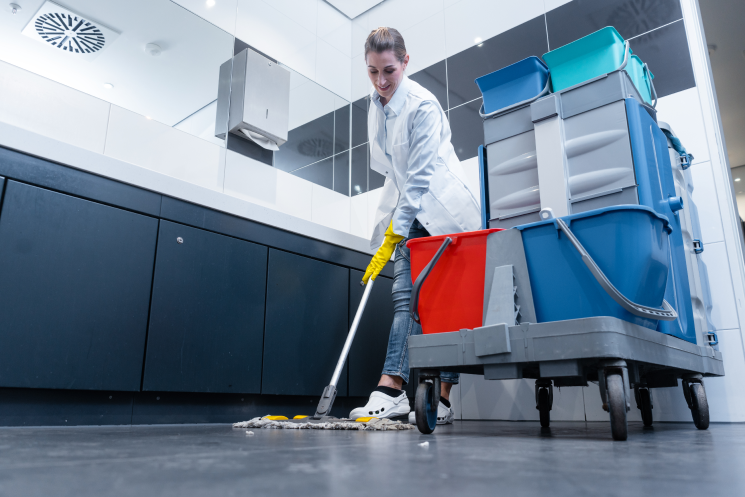 You can arrange public restroom cleaning schedules after a certain number of people have used a restroom. Setting traffic benchmarks with people counting sensors can help you set up a cleaning schedule for your restrooms.
The more people use the facilities, the more likely the bathroom will need cleaning and restocking. So, instead of having staff clean restrooms on a set schedule no matter how frequently the facility gets used, you can focus your efforts and resources on the facilities that receive the highest foot traffic.
Reduce Costs
With multiple restrooms and varying levels of usage, hiring more cleaning staff isn't an affordable or cost-effective solution. Access to accurate and reliable people counting data allows you and your staff to be automatically informed when restroom usage reaches a benchmark that indicates cleaning is required. 
When you accurately measure bathroom facility usage, you're better able to allocate staff to act quickly and proactively, this demand-based cleaning can optimize the deployment of cleaning staff and cut operational costs.
AI People Counting Solutions by V-Count
V-Count is the world's leading provider of visitor analytics solutions. We offer global organizations the latest in people counting, queue management, demographic analysis, zone analytics, and real-time occupancy solutions.  
Our Ultima AI people counting sensor and business intelligence platform leverage the best AI and machine learning technology to anonymously collect and analyze the data.
We provide over 500 global brands with actionable reports and offer them insights to optimize their business operations, boost conversion rates, and increase profits.