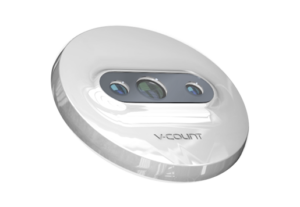 Istanbul, Turkey- V-Count, the global expert and market leader in people counting and retail analytics solutions, announced the launch of its new state-of-the-art people counting/ tracking sensor "Ultima AI."
Ultima AI offers the highest counting accuracy available on the market. Thanks to its advanced 3D active stereo vision technology and AI-based target tracking, it allows for an unmatched 99.9% counting accuracy with HD resolution. Its all-in-one approach integrates all the core solutions of People Counting, Queue Management, Gender & Age Recognition, Zone Counting & Heatmap, and Real-time Occupancy into the thinnest people counting sensor in the world with advanced features and easy setup.
With the ability to sense from up to 9m and an industry-leading wide coverage, fewer sensors are needed to cover the same area without changing the lens, decreasing costs, and improving eco-footprint for clients. V-Count's Ultima AI also boasts other advanced features, including night vision, auto-calibration, operational capabilities from -5° c to 45° c, and GDPR compliance.
"After years of research and development, we are delighted to have finally launched our Ultima AI people counting sensor. It is particularly important for us to provide our clients with the latest technologies and solutions to optimize their operations and increase their revenues," said Demirhan Büyüközcü, CEO and Co-Founder of V-Count.
V-Count has also recently launched "VCare" in response to the COVID-19 pandemic outbreak. VCare is a first-class real-time occupancy solution that helps businesses ensure that their customers and staff remain safe by complying with government social distancing and occupancy capacity guidelines in their physical locations.
The VCare live occupancy solution uses Ultima AI to measure people's flow accurately as they enter and exit in real-time. It displays safety messages and recommendations on screens at various entrances to alert visitors about the occupancy numbers and safety status of business facilities, preventing overcrowding and making it easy to manage and monitor the distance between individuals to ensure safety.
"Amid an unprecedented crisis, safety is our singular focus. We want to help our clients and their customers stay safe," said Demirhan Büyüközcü. "We believe that by providing the VCARE live occupancy solution, our clients can ensure the safety of their locations to get their customers comfortable with the new normal." He added.
Clients
V-Count offers customer traffic and people counting solutions for local and international clients and leading brands that include retailers, shopping malls, supermarkets, restaurants, libraries, banks, gyms, museums, and other public venues in over 110 countries.
Samsonite Europe
Since 2018, Samsonite has been using v-count in over 130 of our stores across Europe (Belgium, Spain,  Germany, France, United Kingdom, Ireland, Austria, Sweden, Italy, Poland, Norway, Netherlands, Denmark, Italy, Hungary, and Finland).
The real result was understanding our traffic data and sales trends in relation to stores' peak hours. Being able to measure their conversion rate has made it possible for Samsonite to optimize and drive more sales while also providing a better experience in our stores.
Cevahir Shopping Mall Istanbul
Istanbul Cevahir needed a trustable technology partner to measure the potential performance of entrances, hallways, and key spaces to increase efficiency.
After V-Count solutions' deployment, mall managers reached optimum efficiency within Istanbul Cevahir by measuring visitor traffic in each space, setting the rent of these spaces accordingly, and justifying the value to their tenants.
Celcom Malaysia
Celcom is the oldest mobile telecommunications provider in Malaysia. V-Count installed its people counter solution in 59 outlets and set up the data processing and reporting system through one rollout.
Monitoring traffic and conversions has given the company a more accurate view of store performance. V-Count's Business Platform has given the company invaluable store performance insights, enabling them to create a stronger and more responsive operation model.
Unifree Duty-Free Istanbul
With 53,000 square meters of shopping area in Istanbul's New Airport, Unifree Duty-Free is the biggest Duty-Free in the world, offering a remarkable shopping experience.
After installing 275 people counting sensors, the project was a huge success. Key Performance Indicators obtained through V-Count enabled Unifree to make informed decisions, such as optimizing their staff according to occupancy rates, increasing its conversion rate, and average basket size.
Malthouse Theatre Australia
Malthouse Theatre is an agile and contemporary theatre complex that comprises a world-renowned 500-seat Merlyn theatre and a 180-seat Beckett Theatre. The building also accommodates rehearsal rooms, meeting spaces, a bar, and a Café.
The Malthouse uses V-Count's visitor analytic to track patron flow numbers visiting the venue to ensure meeting desired targets, gauge the popularity of non-ticketed events, and optimize accordingly.
University of Wisconsin-Eau Claire USA
Rated among the top 10 public Midwestern universities and recognized nationally for quality academics.
The University of Wisconsin Eau Claire chose V-Count to monitor the foot traffic in and out of the student center. These visitor analytics have allowed UWEC to monitor traffic flow during different hours and days of the week as well as overall semester patterns. With this information, UWEC is better able to plan events and maximize building use while adjusting service hours to meet student needs.
Jersey Strong Gyms USA
Jersey Strong, a chain of health and fitness clubs, has implemented V-Count's real-time occupancy solution VCare across 12 of its gyms in New Jersey, USA.
Jersey Strong is using VCARE to closely track the number of people at the club to ensure state occupancy guidelines. The VCARE automated occupancy counters are activated at each location to broadcast live occupancy counts via a message board at the front desk. Jersey Strong has also made occupancy numbers available in the Jersey Strong app, so members can see the club's activity levels before coming in for a workout.
Samsung Turkey
Samsung has been using V-Count's people counting and retail analytics solutions since 2016 in over 70 stores. 
With V-Count's analytics solutions, Samsung has witnessed improved customer services and profitability in Turkey with the data and reports provided by the business intelligence platform.
Crocs
Crocs chose V-Count to analyze their visitor traffic patterns to optimize employee schedules, develop a new methodology for staff operations, and analyze the effectiveness of marketing activities.
Since 2017, Crocs' conversation rate has increased significantly with V-Count's retail analytics solutions, along with a boost in the sales volume and customer satisfaction.
Saratoga Casino USA
Saratoga Casino is using V-Count's real-time occupancy solution VCare to keep track of their occupancy capacity and ensure safety.
Thanks to VCare, Saratoga Casino can now easily monitor occupancy numbers for different areas in the casino in real-time. V-Count's occupancy solution has made it easy for Saratoga Casino to keep both customers and team members safe.
Sephora Turkey
Sephora underwent a significant renovation phase for its stores in 2017. After the installation of V-Count solutions, the company started employing data collected through sensors to gain more visibility into their operations and business cycles. Taking quick actions based on this data, Sephora has significantly increased conversion rates.
Rhythm Japan
Driven by its passion for exceptional customer service, Rhythm Japan has chosen V-Count's solutions to gain deeper insights into visitor traffic in their stores and ensure that customers get the best possible service.
Since using V-Count's innovative people counting solutions, Rhythm Japan has reduced costs, increased customer satisfaction and experience, and improved business efficiency and operations.
About V-Count
V-Count is a global 360-degree visitor analytics suite for physical locations with products that include live occupancy, people counting, heatmap, queue management, and age/gender recognition technologies. Our customer behavior analytics tools help businesses boost conversions, increase profits, and optimize operations in their physical locations.
Serving +900 businesses in various industries worldwide and partnering with global platforms like Microsoft and Amazon, V-Count has evolved into a success story with continuous innovation.
V-Count's solutions are used in +110 countries and +32,000 locations, with +42,000 people counting sensors installed. The company has a dynamic team of +80 employees in London, Dubai, Miami, Brussels, Kuala Lumpur, and Istanbul.

Source: https://www.einpresswire.com/article/532311989/v-count-launches-ultima-ai-the-ultimate-people-counting-sensor