As with any other business, gyms and fitness centers aim to increase profits and decrease expenses. Many businesses use conversion rates to measure success, but a fitness center's visitors already paid money for a gym membership. 
As a decision-maker for a gym, you have to find alternate ways to collect and use data to your benefit. You can change the way you do business with a gym visitor counter. This technology can strengthen your gym management strategy by tracking your gym visitors as they enter or leave to give you information on customer flow and behavior.

Gyms and the coronavirus
COVID-19 has fundamentally changed how fitness studios and gyms operate. For example, studios near popular areas like shopping centers, grocery stores, or office parks witnessed a significant foot traffic decline. On the other hand, studios located in or near residential areas saw increased foot traffic as work from home has become the norm, even post COVID-19. 
After a period of gym closures, governments worldwide have dictated the conditions of gym reopenings through a series of guidelines and gym covid safety measures. These measures include:
Reducing gym occupancy loads and class sizes

Spacing out equipment to maintain social distancing

Providing enhanced and frequent cleaning

Limiting the gym count (the number of people using the facility at any time) by using people counter sensors

Allowing sufficient time between classes to avoid groups waiting outside

Ensuring a limited number of people are in a swimming pool together at any one time

Providing enhanced and frequent cleaning

Ensuring adequate ventilation

Providing hand sanitizers & self-cleaning stations throughout the facilities.

Considering one-way systems for how people walk to reduce contact

Encouraging the use of outdoor spaces for both individual and group activities while complying with restrictions on public gatherings

Work-out studios should have temporary floor markings to help people maintain social distancing during classes.

Encouraging customers and staff to shower and change at home whenever possible, although changing rooms are available.
Gym operators also consider occupancy constraints and run their gyms in a way that reflects the reduced gym occupancy capacity. For example, many gyms are operating with a rule of one person per every 200 square feet (versus a pre-COVID-19 ratio of one per 60) and allowing only every other or even every third machine to be occupied at a time.

Jersey Strong ensures gym safety with V-Count
Jersey Strong, a chain of health and fitness clubs, uses our real-time occupancy solution VCare across 12 of its gyms in New Jersey, USA.
Want to see how Jersey Strong uses V-Count's Real-Time Occupancy Solution to ensure safety? Download the case study here.
4 benefits of people counters for gyms
Gym visitor counters offer an array of solutions that are becoming more and more crucial for gyms, and that can transform the way you manage your fitness center:
1- Identifying the busiest times at the gym
You can use the data from V-Count's Ultima AI people counting sensors to understand how many people use your gym facilities. Since people counters track people as they enter and exit, the results can help determine occupancy numbers by the time and day. You can base your marketing and class schedules based on peak and slow hours.
For example, you can promote your off-peak times or offer more classes to keep more machines open during peak hours. You can also share your busy hours with your social media followers to encourage them to visit at other times.
2- Better hygiene with lower cleaning costs
Social distancing goes hand in hand with gym hygiene through frequent cleaning of your gym facilities. Gyms can utilize V-Count's real-time occupancy solution VCARE to monitor the number of visitors present in the gym at any given moment. This prevents overcrowding, helps maintain social distancing, and allows gym employees to improve facility management by providing extensive and frequent cleaning and sanitization for different zones in the gym, like changing rooms, toilets, and elevators.
3-Understanding the gym's population per zone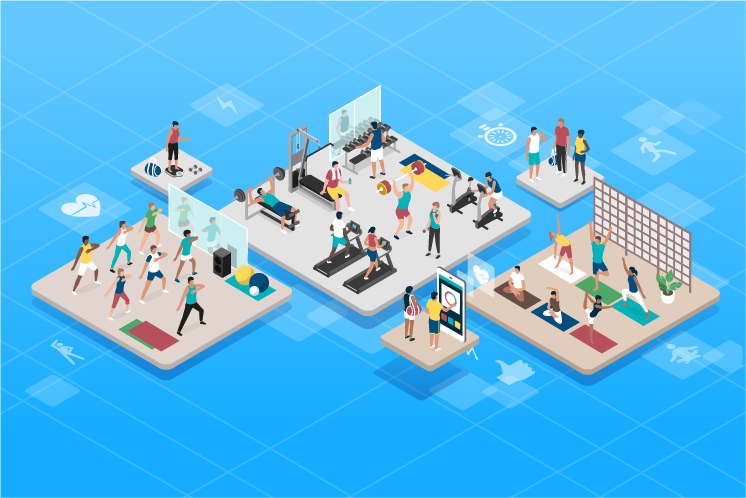 Using people counting technology in all areas of your fitness center lets you know when and where you need to clean. The V-Count Zone Analytics solution provides traffic data based on specific areas and rooms, this data can serve as the basis for your cleaning schedule. When you see individual rooms with high traffic, you will be able to prioritize cleaning them. 
4- Planning class schedules
V-Count's People counting technology lets you draw critical insights by comparing your occupancy levels with class attendance. If many people attend a particular class, you can offer more sessions and attract more visitors. You can also base your class plans during the busiest times at the gym to keep more machines open during peak hours. Adding a people counter to your studio's doors can keep track of attendance for larger classes. When gym operators figure out how to use the people counting data to your advantage, you can optimize your classes and times.
V-Count's people counters for gyms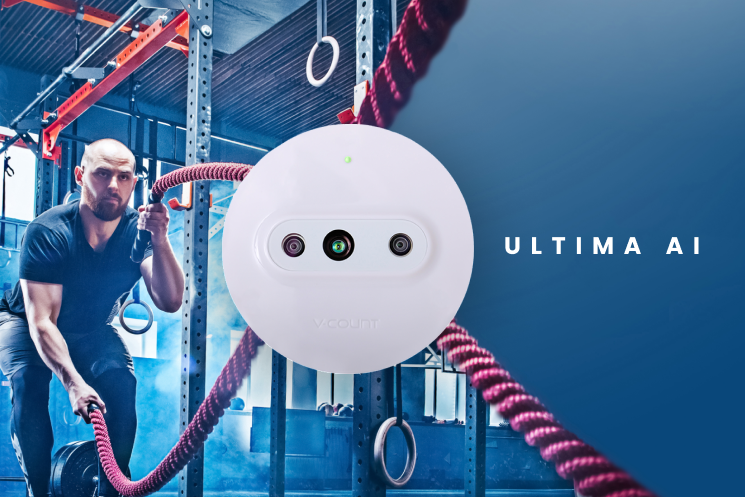 At V-Count, we offer your fitness center accurate people counting data. You can use our solutions to gain critical insights into the way you operate your fitness center to improve operations and increase profits.