4 Benefits of People Counters for Gyms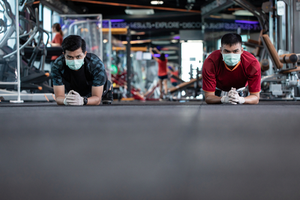 As the COVID-19 pandemic took the world by storm, gyms, fitness & health clubs, and boutique studios went into complete shutdown. Independent clubs and smaller chains were hit the hardest, and some large chains have also suffered.
Studios and gyms have been focusing on tactics to survive, like cutting costs where they can, retaining memberships by freezing payments during closures to appease customers, and streaming digital versions of their popular classes online.
Governments around the world are dictating the conditions of gym re-openings through a series of guidelines and safety measures. These measures include reducing class sizes, spacing out equipment to maintain social distancing, providing enhanced and frequent cleaning, and limiting the number of people using one facility at any given time by using a people counter sensor.
COVID-19 has fundamentally changed the way fitness studios operate. Social distancing requirements will reset attendance levels. Gym operators need to reassess their existing portfolio and foot traffic. For example, studios near popular areas like shopping centers, grocery stores, or office parks may see a significant foot traffic decline. On the other hand, studios located in or near residential areas may see increased foot traffic as work from home normalizes, even post COVID-19.
Operators should also consider occupancy constraints and run their gyms in a way that reflects the reduced in-studio capacity. For example, many re-opened gyms are operating with a rule of one person per every 200 square feet (versus a pre-COVID-19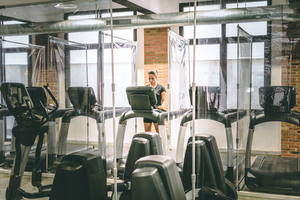 ratio of one per 60) and allowing only every other or even every third machine to be occupied at a time. 
Gym visitor counters offer an array of solutions that are becoming more and more crucial for gyms, and that can transform the way you manage your fitness center:
Identify Peak Hours
You can use the data from V-Counts people tracking sensors to understand how many people use your gym facilities. Since people counters track people as they enter and exit, the results can help you determine occupancy numbers by time. You can base your marketing and class schedules based on peak and quiet hours.
Determine Occupancy Levels
V-Count's real-time occupancy solution VCARE can be utilized by gyms to monitor the number of visitors present at specific areas in the gym at any given moment. This prevents overcrowding, helps in maintaining social distancing, and allows gym employees to improve facility management by providing extensive and frequent cleaning and sanitization for different zones in the gym, like changing rooms, toilets, and elevators.
Plan Class Programming
V-Count's People counting technology lets you draw critical insights by comparing your occupancy levels with class attendance. If a large proportion of people are attending a particular class, you can offer more sessions and attract more visitors. You can also base your class times during your busy hours to keep more machines open during peak times. Adding a people counter to your studio's doors can keep track of attendance for larger classes. When gym operators figure out how to use the people counting data to your advantage, you can optimize your classes and times.
Reduce Cleaning Costs
Social distancing goes hand in hand with frequent cleaning of your gym facilities. Using people counting technology in all areas of your fitness center lets you know when and where you need to clean. Traffic data based on room and time can serve as the basis for your cleaning schedule. When you see individual rooms with high traffic, you will be able to prioritize cleaning for them.
Related: Gyms Reopening: How to Ensure Safety
V-Count's People Counters for Gyms
At V-Count, we provide fitness centers and other businesses with the most accurate people counting data with our advanced sensors and cloud platform. Gyms can use our solutions to gain critical insights into the way they operate and increase profits.