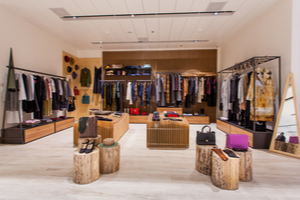 In the realm of physical retail, COVID-19 has transformed the ways in which people browse and shop for products. Due to this change, physical retail stores need to adapt to the new and ever-changing behaviors and habits of shoppers.
As a brick-and-mortar store, retail space planning should be a top priority on your to-do list. Mapping out the right layout and design for your stores results in a shopping experience that's delightful and safe at the same time. While this may be challenging to achieve, it can make all the difference with the right data-based strategy.
1. Start with the right data
Gathering the right data with V-Count's people counting solution is necessary for making the right retail space planning decisions. Before you go about rearranging your store layout and design, it is crucial to look into the following:
Your store's foot traffic data. Understanding data related to footfall traffic, peak days and hours, and which zones in your store attract the most people is crucial for making knowledge-based planning decisions. For example, if you know that your customers spend the most time at the center of your store, then you can position more products that you want to sell there to increase sales conversions.
Your store's maximum occupancy capacity. Check your city's social distancing and occupancy capacity regulations to determine the number of people who can be in your store together at the same time. You may be required to operate at 50% capacity, for example, and you'll need to plan your space accordingly.
The number of employees during each shift. An integral part of retail space planning is considering how many staff members you should have in your store. With social distancing measures in place, you may need to reduce the number of people to have during each shift or assign them to different parts of the store so they're not too close to one another. Similarly, you may need to decrease or increase the number of staff members during busy and slow hours to optimize resources and improve customer satisfaction.
Your top-performing products and categories. Top-performing products and customer favorites are your most profitable items. You can use such data to determine merchandise placement, stock orders, and more.
2. Know your customers' buying journey
What are your most popular products? What's the first thing your customers do when they enter your shop? Do they tend to look around? Or do they get in and out quickly?
Answering these questions will help you determine how to merchandise your store and what layout to use. By mapping out your shoppers' path and buying journey from entry to exit, you can effectively plan and execute your space planning ideas.
V-Count's zone analytics solution gives businesses the data they need to have an established buying process analysis, which they can use as a basis for a retail layout and design that perfectly complements the conceptualized buying process.
3. Consider social distancing, hygiene, and safety equipment
Keep in mind that you're not just designing a space for your products; you also need to incorporate health and safety measurements into your retail space planning efforts. This includes making space for social distancing and sanitation areas.
With V-Count's real-time occupancy solution VCare, you can easily keep track of the number of people in your store in real-time. Your customers will also stay up to date with your occupancy numbers through digital screens that show your occupancy status and safety recommendations. Our occupancy solution can also be integrated into your apps through an API to keep your customers updated prior to their shopping trip.
4. Don't forget about the outside of your store
Space planning for retail isn't just about the inside of your shop; factoring in the experience of pedestrians passing by or customers who are waiting to come into your shop is also crucial. Your window displays should tell a compelling story. Customers waiting outside look into your products through your displays. With V-Count's Business Intelligence Platform (BIP), you can measure your marketing campaigns' success by reviewing all your marketing activities on a single dashboard. You can compare various campaigns and displays to get insights into the marketing expenses spent to acquire a new visitor to your stores and measure your marketing effectiveness.
5. Keep checkout queues short
The checkout process is a critical part of the shopping experience; that's why you need to consider it when planning your retail space.
V-Count offers a cutting-edge queue management solution to accurately and anonymously calculate the number of customers at checkout queues and measure the average time they spent there. Identifying these key metrics is critical for retailers seeking to avoid potential customer losses caused by long lines.