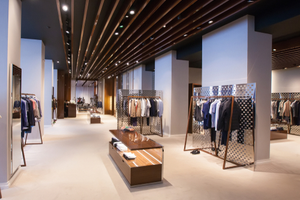 Contrary to predictions of physical retail demise, new excitement is emerging among retailers. Recent research and reports have revealed that physical stores will account for £8 of every £10 of retail spending by 2025, and 81% of young Gen Z respondents said they preferred to shop in stores, while 40% said they would only shop in stores.
Such data has caused the conversation to finally shift focus from high street doom and gloom to a new exciting phase for retail. Retail has always been in a constant state of evolution, and it's continuously adapting. As a result of the pandemic, we're just seeing this play out at an accelerated rate on a mass scale as the retail sector seeks to rebalance itself after years of procrastination.
Bricks & mortars won't die — they will evolve, and they have every chance of succeeding, even more than before, if they focus on using the right technological tools and services. This will result in the creation of personalized experiences for their specific customers.
Safety Precautions
With the COVID vaccine being distributed, the majority plan to keep shopping in physical stores. Despite the vaccine, consumers still want to see retailers taking safety precautions in 2021, such as offering disinfectants around the store, plexiglass barriers at checkout, wearing protective face masks, and social distancing markers.
The VCare real-time occupancy solution allows retailers to automatically keep track of occupancy numbers in real-time, thus facilitating social distancing and ensuring safety.
A Unique Customer Experience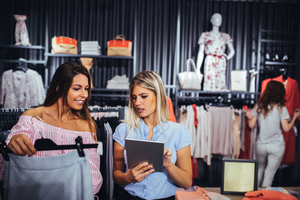 In this era, brick-and-mortar stores will continue to exist, but the value they're offering to customers is evolving. Value for physical stores will transform from only providing merchandise to places that sell stories, engage customers, and create a fascinating experience.
Tomorrow's brick-and-mortar stores will become more creative and interactive than before. Retailers need to integrate solutions that collect data about each step where the shopper interacts with the brand. By combining data analytics and AI-powered solutions, like People Counting, Demographic Analysis, Zone Analytics, and Queue Management; Retailers can understand customer behavior and analyze trends to improve the in-store experience and thus increase sales.
Demographic Analysis data allows you to enhance the customers' engagement level by offering the right products according to your diverse customer base's needs to provide a more personalized experience for shoppers.
Data from Zone Analytics lets you understand your visitor's actions in-store, which areas they are attracted to, which products they search for, and what motivates them to buy. As a result, you will learn which product line and zones perform better and improve the aspects that lead customers to purchase.
Physical retail spaces will become centers for people to bond, and customer experience will be reshaped to become something more than just purchasing products.
With the continued evolution of the retail landscape, creating spaces that bring people joy and make them feel good is bound to make the sales follow, both offline and online. The focus for bricks-and-mortar retailers should be on creating a complete brand experience.
The 2021 shopper who enters a store has high expectations about the experience, not just the purchase, and this is where retailers can stand out. A physical space can evoke emotion and drive a connection, which is far more difficult to conjure in an online environment. The future shopping experience will continuously evolve and serve a range of purposes. From creating and maintaining brand loyalty to selling products, there is, without a doubt, an exciting momentum building that is a win-win for consumers and retailers alike.
This is how retailers can bring meaning back to retail and people back to stores, whatever they may look like in our changing world.