AI-powered technology has come a long way, but this is just the tip of the iceberg. There's a lot more to come, but these advancements shouldn't be treated like some sort of boogeyman, as many retailers do. They're here to empower your business and help you optimize your operations based on how customers interact with your establishment.
People counting systems are one of the leading technologies that physical businesses lately rely on to understand shopper behavior, and rightly so. However, the hardware part (traffic counting sensors) alone can't produce the desired results. All the visitor data these sensors collect has to go somewhere and transform into actionable and valuable insights. Simply put, you need a cutting-edge visitor analytics solution, no matter which people counting sensor you use. You need Business Intelligence Platform (BIP).
In a nutshell, BIP functions like Google Analytics but collects real-world visitor data through traffic counters. The cloud-powered visitor analytics platform offers various features and over 200 KPIs that can help any type of physical establishment improve operations, reallocate resources, and boost revenues.
Old school people counters had limited functionality, they could only count people entering and exiting a designated physical space, and they did that simple job very poorly. Nowadays, many people counting sensors are capable of doing more than just counting in and outs; this can include information on foot traffic patterns, dwell time, demographic information of visitors, and more. However, this data becomes useless or unactionable without the right software solution; you know what we are getting at, Business Intelligence Platform.
You can use BIP to convert visitor data into meaningful information about your establishment and then get cranked on optimizing your operations, the layout and design of the physical spaces, improving the customer experience through visitor flow, and measuring the effectiveness of marketing and promotional campaigns.
Supports All Modern People Counting Sensors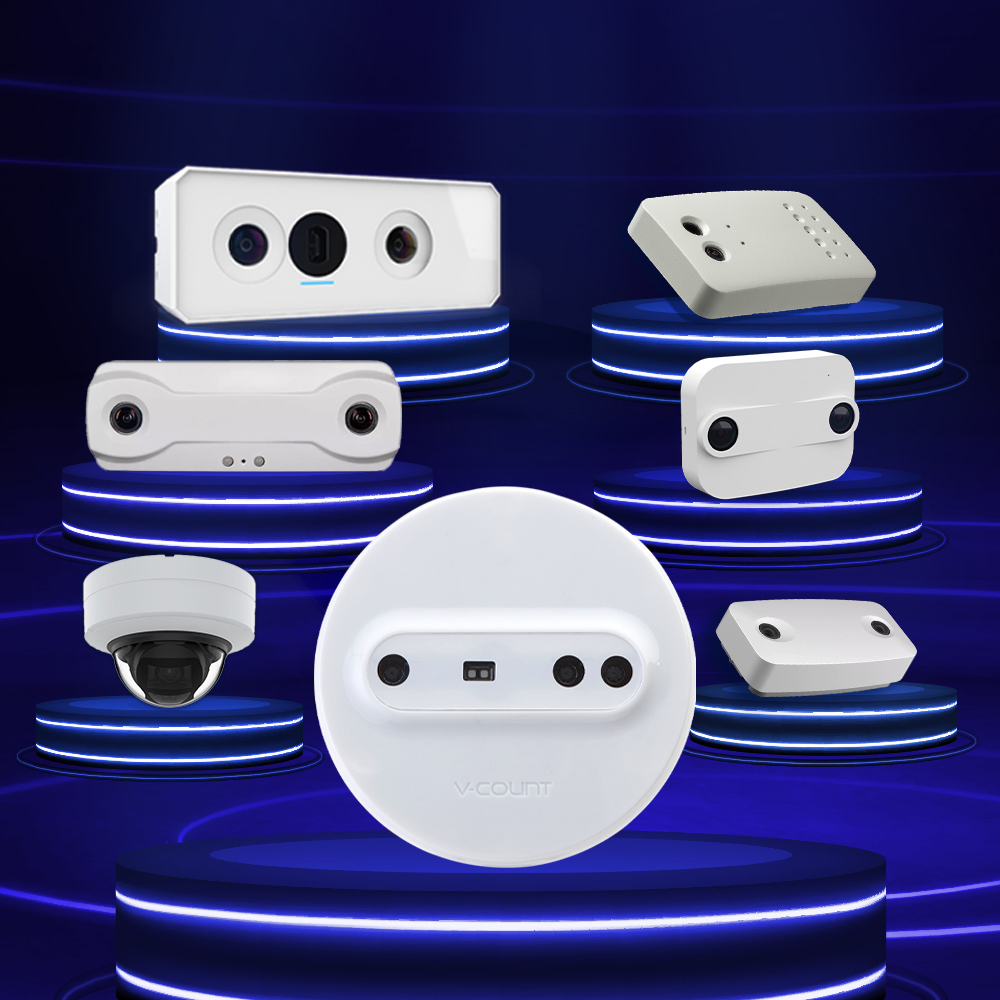 A variety of impactful features make V-Count's Business Intelligence Platform an ideal choice for businesses looking for an advanced analytics solution. BIP supports all modern people counters and any features they may offer, such as zone analytics, queue management, demographic analysis, passenger counting, staff exclusion, and more.
For instance, you're running a retail chain or a holding and have already invested in people counting technology for your brick-and-mortar stores; but there's a catch. You deployed people counting systems from different providers. It could be costly to switch to one single solution provider, but you also have to jump between analytics solutions to see how your stores are performing, and you have to compare visitor data between these stores manually. BIP is the solution to all that manual and messy work; empower your existing people counting systems with BIP and gain access to all your store data in one central platform.
In addition, if your system doesn't support an API connection, BIP can connect directly to your database to provide you with the visitor data you need. The integration process is seamless and takes, at most, 48 hours.
To make the best out of BIP, we strongly recommend opting for our very own, in-house developed Ultima Series People Counting Sensors. V-Count offers the highest accuracy (with over 99%) in people counting, and without a reliable and precise sensor, all the other features can, at best, provide distorted but somewhat actionable people data.
Integration With Third-Party Solutions
Our cloud-powered online visitor analytics system can be integrated with other third-party solutions and technologies, such as CRM, POS systems, digital signage, and marketing automation systems.
This gives your business a more holistic view of customer interactions and more flexibility across your entire pipeline. On top of that, BIP embraces a scalable model, meaning it can be scaled up or down to meet the needs of establishments of any size.
Real-Time Data Collection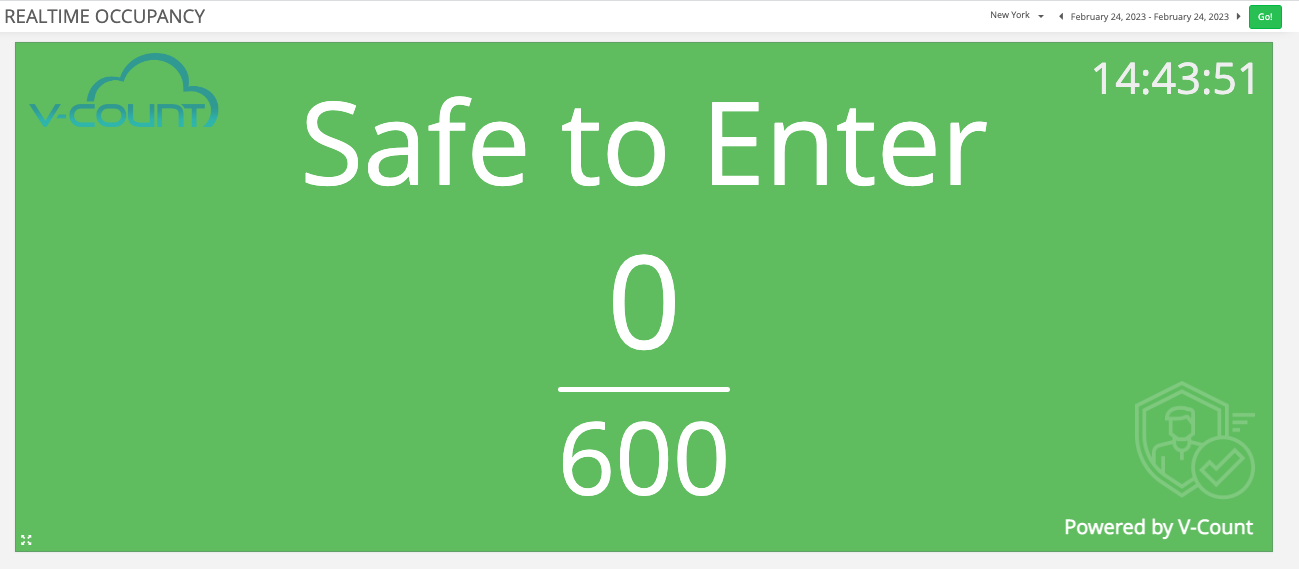 Having access to your location's overall visitor data is great, but having it in real-time is even greater. Real-Time people counting data can help your business save valuable resources and reallocate them accordingly. In addition, you can know the maximum occupancy number in real-time to comply with your government's health guidelines.
You can also track the shopper's journey and behavior in real-time and see how they interact with physical spaces and specific products or zones. BIP's real-time visitor data metrics will allow you to make data-driven decisions quickly and efficiently.
Customizable Dashboards and Automated Reports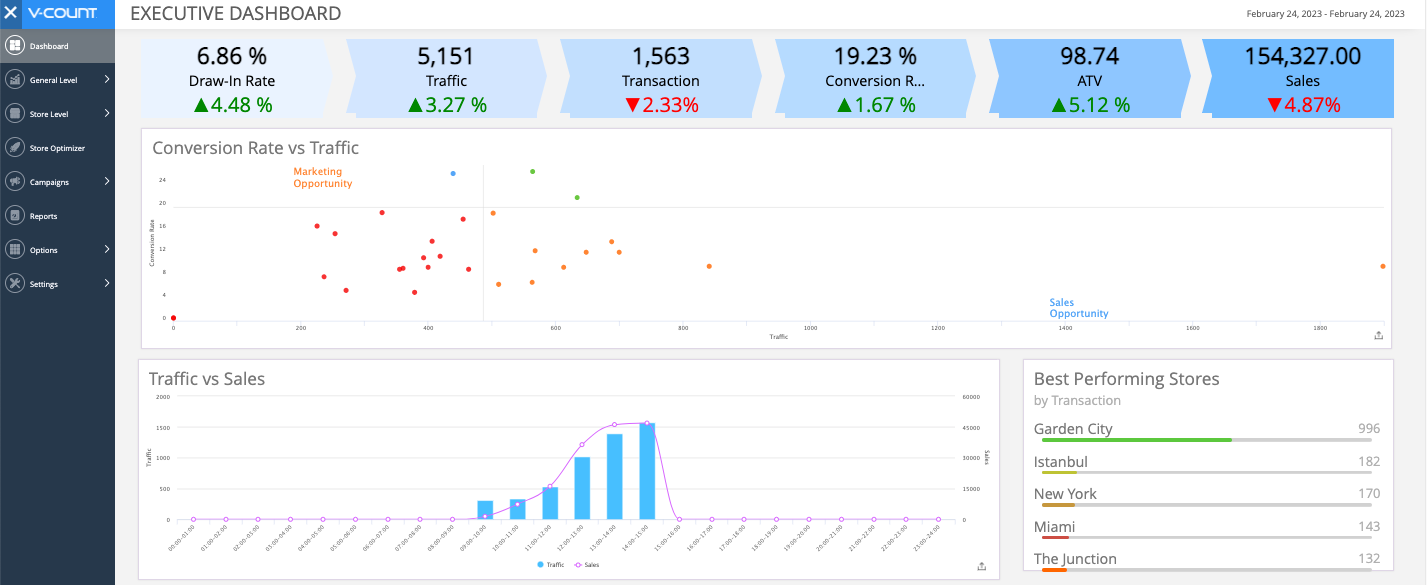 BIP also stands out as a highly versatile software solution if you're keen on investing in people counting for your business. You can easily customize dashboards to access and analyze the most crucial visitor data in a quick and efficient way. This highly customizable approach makes BIP a flexible and user-friendly solution. You can move things around, push the metrics and KPIs that matter to your business forward and make it easy to monitor key performance indicators and identify areas that need improvement.
If you own or manage more than one store, BIP has your back. It offers multi-location support, provides all the necessary comparison tools, and allows you to generate reports in any modern format. With just a few clicks or taps, you can start monitoring and comparing performance across different locations and discover what works and does not. Multi-location data can be vital in improving a poorly performing store or maximizing revenues for an already seemingly well-performing one.
Using BIP's automatic report generation feature, you can easily receive detailed insights and customized reports on foot traffic and other metrics of your choice. It is capable of sending separate reports to individuals based on their position in the company, which helps streamline communication and allows for more efficient decision-making throughout the company.
Measure and Optimize Marketing Operations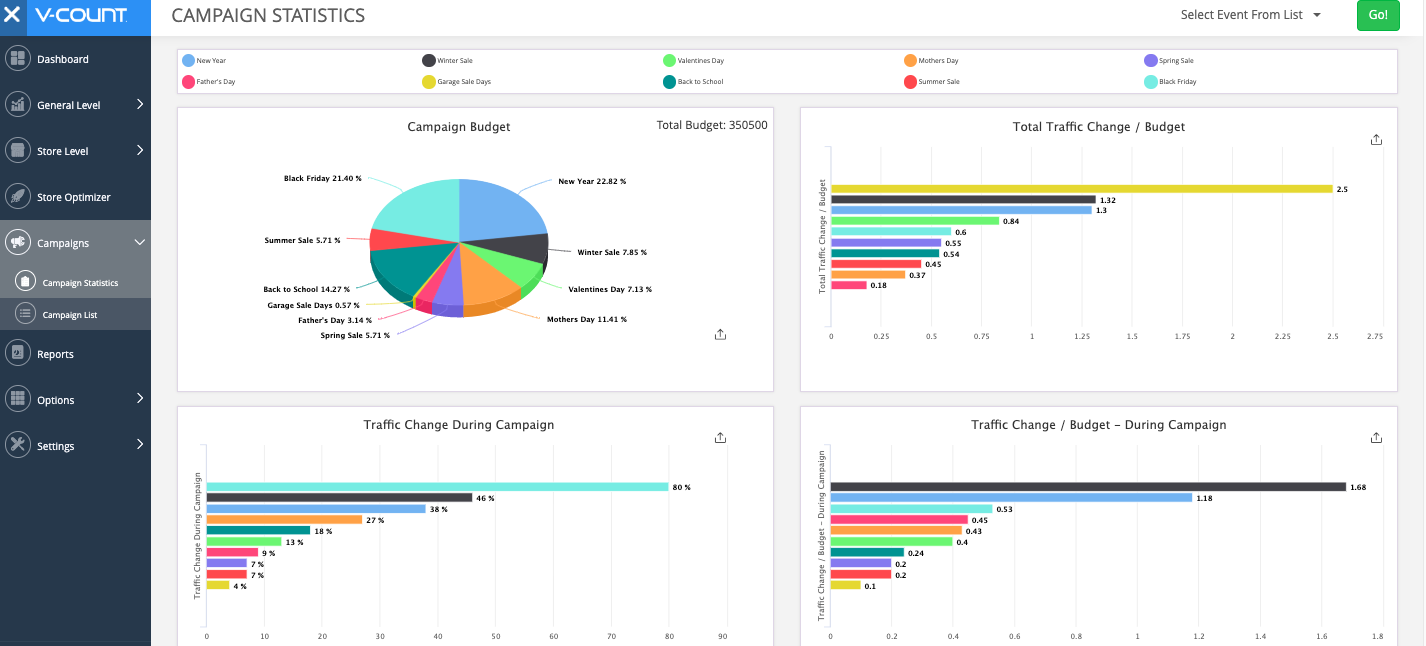 Modern and precise visitor analytics can help you discover who your customers are and what they want. Understanding your visitors' needs and wants is crucial if you want to maximize your earnings and grow your enterprise.
BIP has all the tools necessary to collect visitor demographics; however, your people counting sensors should also have this feature, which must be fixed in a position where it can detect faces. The same applies to any features and solutions you'll find on BIP. Provided your choice of sensor supports a solution, BIP will have your back.
You can then launch targeted marketing efforts based on your customer profile, such as age and gender, to increase your reach and promote specific products. Additionally, you can further optimize these campaigns to achieve greater efficiency, allowing you to reach the right customer at the right time and place.
Another great benefit comes from BIP's integration capabilities with other solutions. This allows you to identify high and low-performing products in your store and help you increase sales and conversions. Operating with other software, BIP can nudge you in the right direction to improve performance across the whole business.
As a decision-maker, you can also rely on BIP to increase your return on investment. When you switch to data-driven, factual decision-making, your operations will run more smoothly. Through BIP, you'll be able to identify what works for your store and what does not. This will enable you to optimize your efforts accordingly and increase ROI significantly while saving you invaluable time and resources.
Employee Schedule Optimization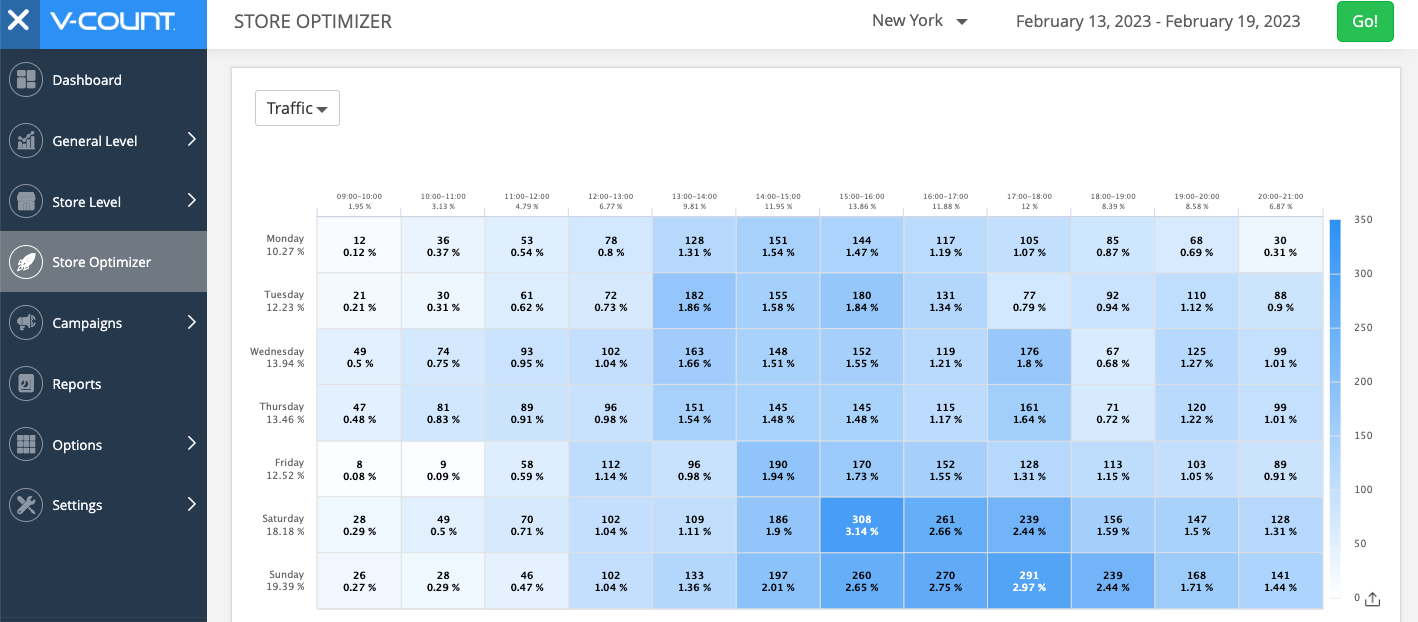 In today's competitive business world, optimizing employee schedules is a critical aspect that leads to success. BIP can transform your location's visitor traffic data into crucial insights and help you determine when and where your employees are most needed. You can use BIP's numerous features to optimize employee scheduling and ensure there are always enough staff members during peak hours. An optimized employee schedule also means higher efficiency, happier employees, and reduced labor costs.
BIP can turn your team into a well-oiled machine through analysis of foot traffic data and allow you to adjust schedules based on real-time traffic trends. You can also use other features to discover the causes behind the peak and slow hours and optimize your labor force accordingly on a weekly or monthly basis. Going with BIP and making decisions based on factual data will ensure your business is never over or understaffed. You'll also see a rise in employee morale and customer satisfaction.
Supports 19 Languages
Our online visitor analytics platform provides reliable data and insights to help you make informed decisions and optimize your store performances; and to ensure you feel welcomed and engaged, it offers support in 19 languages. You can use this user-friendly software solution in your preferred language.
BIP is available in English, Spanish, French, Danish, Norwegian, Chinese, Persian, Turkish, Vietnamese, Bulgarian, Russian, Portuguese, Serbian, Japanese, Arabic, Swedish, Italian, Thai, and Polish.
If you want to get a comprehensive understanding of your customers' behavior with customizable reports and access to your traffic data, V-Count's Business Intelligence Platform is the tool you've been looking for all this time. As stated earlier, BIP works best with our very own, in-house developed hardware, but it can flawlessly function with other people counting sensors too. You can't go wrong with it.
Reach out to us now, and we'll connect you with an expert to show you what BIP can accomplish for your business firsthand.